---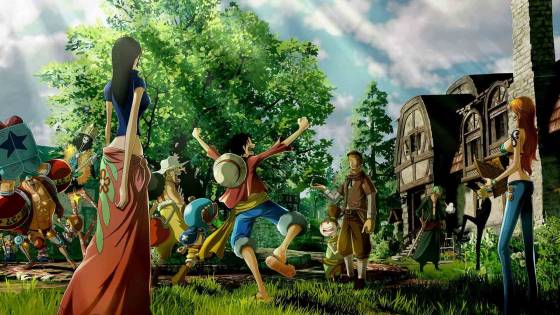 Anime games! They're out there, they exist, some good, some bad, but none have gotten quite as much coverage as the big three of Shonen Jump. When I say the big three, I'm referring to Naruto, Bleach, and One Piece, though many Shonen Jump series have made their way to game platforms for a long time now (looking at you, Yu-Gi-Oh). This is even culminating in a huge crossover fighter here soon, known as Jump Force. But let's divert our attention away from that gem for now and peek at a different one. Have you heard of One Piece: World Seeker? You'd be forgiven if you haven't, as the game hasn't had much coverage around its development. Revealed around a year ago, World Seeker is looking to bring One Piece into the open world adventure space. This is big, considering all of One Piece's games so far have been fighting games exclusively.
The game is being developed by Ganbarion and published by the good ol' folks over at Bandai Namco. Despite the lack of coverage in a year, both groups have decided to throw us a bone since it's set to release in just a few months now. Just the other day, Bandai Namco let out an early Christmas present on their official YouTube channel: The opening cinematic trailer to One Piece: World Seeker. I know, right? Actual footage! While this isn't gameplay persay, it does serve as the opening movie to the game, and one that paints the picture of what we can expect it to be like. The trailer shows One Piece's lovable protagonist Monkey D. Luffy bouncing his way through a large town, with various glimpses of the series' classic characters and Straw Hat crew throughout. Naruto has already been the subject of a few open world adventure games outside of its own fighting game sphere, and it looks like World Seeker is aiming for a similar experience.
We don't have to speculate too much on that front though, as the developers have discussed some gameplay details on the side. The first and most important of these is that you'll mostly be playing through the game as Luffy himself, freely exploring and battling as you go with his various Gum Gum techniques. It's not yet known if other characters will be playable outside of Luffy, but that would be a pleasant surprise, if even for just the core Straw Hat crew. Ganbarion have also confirmed that the game will feature stealth segments of all things, interspersed throughout the free open world exploration. Considering how large of a universe One Piece has at this point (it's one of the longest running Shonen Jump series of all time), plopping it into an open world game setting just seems like a perfect fit.
The good news is that One Piece: World Seeker will be one of the earlier game releases of 2019, set for release on March 15th for Windows PC, Xbox One, and PlayStation 4. Pre-orders are already open, and if you get in on those, you get access to new costumes and a pre-order exclusive in-game mission. There's been no word of if there will be a Switch port for the game, but that would be exciting to see. Can't hold out too much hope for it just yet though. In the meantime, make sure you check out the new trailer down below. It's filled with fanservice aplenty for One Piece fans everywhere, and the game is likely going to be pure fun to play for them in particular. Considering this game's release and the arrival of Jump Force on the horizon, the present-day status of anime games is looking rather pleasant.