---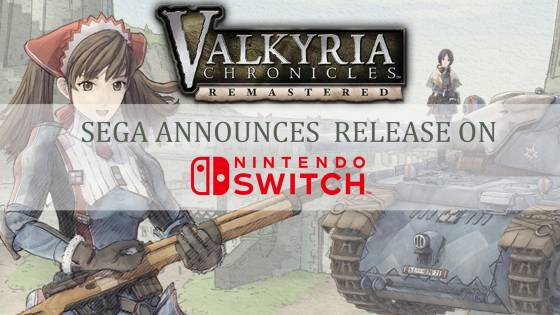 Earlier in June of this year, Sega announced that their original tactical role-playing game Valkyria Chronicles would be releasing in Japan for Nintendo Switch alongside the Switch version of Valkyria Chronicles 4 on September 27, 2018. Just recently at PAX West, however, during Sega's panel last Saturday, they announced Valkyria Chronicles for the Switch would be releasing in the Americas and Europe on October 16, 2018, for digital download priced at $19.99 USD.
The original Valkyria Chronicles was released for the PlayStation 3 back in 2008 and a remastered edition was released for the PlayStation 4 in 2016. It is worth noting that the Switch port being released this year is the original 2008 version of the game - which is somewhat disappointing. As we know, when it comes to technical specs, the Nintendo Switch pales in comparison that of the PlayStation 4 and Xbox One. But the tradeoff for portability may just be worth it.
You see, Valkyria Chronicles actually found a huge market in the handheld systems when it switched to making games for the PlayStation Portable. Both Valkyria Chronicles II (2010) and Valkyria Chronicles III (2011) found huge success in the PSP both critically and commercially. A spinoff of the series, Valkyria Revolutions, released as an action role-playing game back just last year in 2017 for the PlayStation 4, PlayStation Vita, and the Xbox One. However, that game did not get the critical acclaim as the mainline series did but instead was received relatively poorly by critics.
So not only will Valkyria Chronicles 4 mark the first time for the mainline series being released on any non-Playstation console, Valkyria Chronicles for the Switch is the only non-Playstation console it is being released on whatsoever. Also to note, the only actual handheld version of the game so that's pretty neat since these games really feel like the type to be played that way. For many people who have not gotten the opportunity to play this series because of its limited console releases, this is the perfect opportunity to do so - especially because the Switch edition is releasing with all the DLC.
So though the release of the original Valkyria Chronicles for the Nintendo Switch is coming out a couple weeks after Valkyria Chronicles 4, Sega is offering a 25% discount for the title if you already have Valkyria Chronicles 4 in your library. However do note that this promotion will only run for a limited run: October 16 - December 17, 2018. So remember to take advantage of this offer if you are planning on getting both games.
Valkyria Chronicles will be released on September 25, 2018 for PlayStation 4, Xbox One, Nintendo Switch, and Microsoft Windows.