---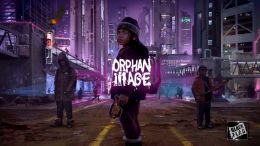 Orphan Age is a dystopian-life simulator game that has recently arrived on Kickstarter. Players adopt the role of a soldier who is left behind with little standing in the way of oncoming chaos.
The backdrop stands as an unforgiving, neon-lit cyberpunk warzone that players inhabit as they began to scrape out a living in the face of extreme dangers. Players must battle is for survival as an oncoming war engulfs the world around them. As the dangerous onslaught continues to wreak havoc, players will guide a band of orphans, who each possess unique strengths, weaknesses, fears, emotions, and skills, through the bitter struggle for survival in an ever-changing landscape.
In a constant battle of risk and reward, players will tackle important decisions, with continuous support for the orphans in mind, as each member of the group must stay alive for the best possibility of survival. As a whole, players may begin building a base once enough crafting supplies have been scavenged, and later venture out into the city for new recruits. As new recruits emerge, players must still maintain that there are enough supplies to keep the base running, even when wrenches are thrown into plans, and all hope seems lost.
Orphan Age takes a dystopian approach on the life simulator genre and paints a world that adapts to the unique characters, needs, and skills of the orphans, while also offering a city that is procedurally generated. The gameplay was inspired by Fallout Shelter, The Sims, and The Last Stand: Dead Zone, with elements borrowed from movies ranging from Akira, The Grave of the Fireflies, to Blade Runner.
Dubbed by the developers as a "nihilistic heir to The Sims", Orphan Age seeks to expand on the simulator genre and has taken the opportunity to experiment with a take on one of the most simulation game series. Beginning production in 2009, Orphan Age began development as a micro-simulation within an unforgiving world, and evolved into an even more nuance, detailed world, with believable characters. Each Orphan is unique, which players will come to find as they begin testing their limits amid fights for survival. The orphans must come to a balance as players push them beyond their limits and wellness beyond their control.
The gameplay takes form through a singleplayer campaign, with replayability inspired by the 4X genre promised. Keen detail has been placed on the exploration elements as the world remains ever-changing and procedural, meaning no one building will be found twice, and complexity will be interwoven with various paths emerging within the cities.
Currently only standing about $8,000 shy of the pledge goal, Orphan Age will remain on Kickstarter for about 9 more days. As an "All or nothing campaign", prospective players will only get a chance to play this game if the goal is met in full. If all goes well, Orphan Age will make its way to Steam, where it may be played on Windows, Mac OS X, and Linux.