---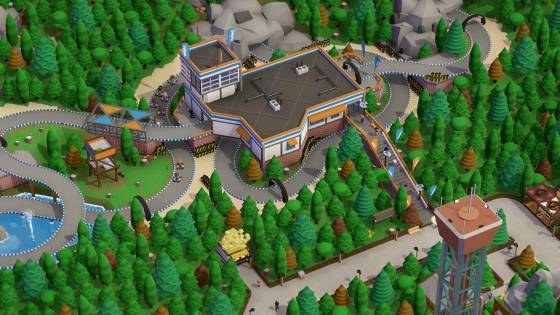 Bullfrog's Theme Park game was the stuff of legend 25 years ago. It made theme park creation and management more user-friendly for casual users, and was followed up by Sim Theme Park - which greatly curbed the management aspect of things. Since the early '00s, nothing has really come out that allowed you the same level of freedom as the Bullfrog classic - until now. Texel Raptor makes their debut as a studio with Parkitect, which offers up both management theme park creation tools to craft a modern-day version of what Theme Park excelled at.
Games like Rollercoast Tycoon have worked well for that one aspect of things, but now, you can not only create a coaster park - but any kind of park that you want. You can create a Western-themed park with things like general stores and saloons if you want. Future-themed parks give you a chance to make something akin to EPCOT, or you can make a modern-day park with gift shops all over alongside your usual mix of coasters, merry-go-rounds, and other themed rides and attractions.
Parkitect lets you make parks of any size - so if you want to make a park that is absolutely enormous, you can. You can also keep things smaller if you want to learn the ropes without making things too complex. You can mix and match parts too, so if you want a future area next to a fantasy-themed area, you can. The devs have a bit of fun with allowing you to make parks heavily-inspired by real life parks too. So if you want to make an enchanted kingdom and put it near a future world, go right ahead. Much like Theme Park, you can check the happiness level of your patrons and see what they want.
Conversely, you can also adjust prices on everything in the park - so if you want to hike up prices on soda and then fill it with water to maximize your profits - you can. However, you might upset consumers, so you need to find a good balance between making money and making people happy. Ride creation also needs to factor in safety or else your reputation will go down and people will shy away from a park with a roller coaster that does a better job of launching people into space than NASA.
Parkitect also allows you to download created items from the Steam Workshop - or you can use modding tools to make your own. For a game that started life via Kickstarter four years ago, this looks far more robust than most and showcases just what can be done when developers have a clear vision of what they want to create a execute it. You can buy the game for Linux, Mac, or Windows via Steam or the Humble Store. Those seeking a DRM-free version can enjoy it via GOG as well. It's a must-have for anyone who grew up loving Theme Park and wants to enjoy that same kind of experience on a modern device.