---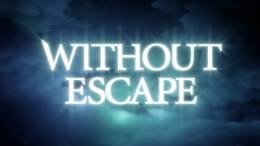 Without Escape is an upcoming point-and-click adventure that aims to take players back to the first-person experiences of the graphic-horrors of the early '90s. The narrative is explored through gameplay that simulates an escape room. Players must explore and investigate a flurry of gruesome and unearthly events that have begun to cultivate inside their own home. This interactive story urges you to toggle between your usual mundane existence and a staggering otherworld that cannot be avoided. Escaping the nightmare is paramount, but finding the answers you're looking for will not be a simple task. You return home one night and notice that no one else is around. Your parents had previously mentioned their plans to visit your grandparents for the weekend, so their absence doesn't strike you as alarming, and you continue to bed. Come 2:45 AM, your sleep becomes interrupted, and you are startled awake by loud, ominous noises. You initially assume a burglar has noticed your parent's absence and are attempting a break-in, so you decide to investigate. This begins the plunge into a web of inescapable nightmares. You're unaware of how to return to reality, but understand that unraveling the secrets of how your house has mutated will be the first step to salvation.
Reconnecting to your past is part of the gameplay, and will be utilized through the point-and-click exploration. Enigmatic puzzles are scattered throughout and need to be completed in a timely manner to keep progression steady. Your once familiar house has been transformed into what seems like a torture facility, with rustic gears and dimly lit candles scattered throughout. Your basement has been replaced with a lava-filled tank, and eyes appear to be watching your every move. It is hinted that the birth of a prophet has taken place, and it's up to the player to discern what kind of madness is needed to interpret the various clues scattered throughout. Without Escape is a 2D adventure that pairs 2D UI elements on top of the environment, with real-time 3D models for items that are found in the world. This gives the game that nostalgic kick.
The developers over at Bumpy Trail Games take their inspiration for this title off of horror classics Silent Hill and Resident Evil. This is certainly emulated in the gameplay, and offer the grimy mystique that sets the visuals in those games apart from other horror classics. The dense atmosphere of the game, coupled with a soundtrack that will make your skin crawl, will certainly appeal to all the classic horror fans itching for something new. Multiple endings are featured depending on what you're able to accomplish, compiling what you may have missed, and measuring the diligence taken in your investigation. If speed is your thing, you can race against your friends or other players through the online leaderboards.
Without Escape is a singleplayer experience, but that doesn't mean you have to forego your competitive streak. The game is currently set to release on Steam and itchi.io on April 24. Until then, those interested can pick up the demo for Windows, Mac OS X, and Linux.