---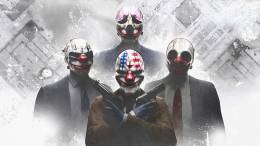 On March 15, 2018, Payday 2 VR has come out of Beta and officially released on Steam for the PC. In November of last year, Overkill Software introduced a Beta Virtual Reality mode for their Payday 2 game for people to try out. A year later after much testing and development, it has finally released.
This new mode lets you play all of Payday 2 in VR, except for some content that is still being converted into VR. You can now partake in robbing banks with your crew in Virtual Reality. Almost every weapon that is in Payday 2 is now available for you to use in the VR version. You can now access your weapons on the fly with a new inventory belt that can be customized for quick access. New skills and perks have been added for VR users which are different from the non-VR game. Cross play in Payday 2 is now implemented between the regular desktop version and the new VR mode so you never have to struggle to find people.
To get Payday 2 VR, you must download the update called PAYDAY 2: VR and you can join everyone else in this new mode. The update is free and is only available on Steam at the moment. If you were one of those players that played the Beta, when you first load the game you will be asked if you want to overwrite your old save file with the VR save file. You will only be asked this if your VR Beta file has more progress than your old Payday 2 file. If you have any addon mods installed, the patch notes warn about their being a high risk of crashing so it is wise to disable them until the creators have updated the addons.
Nothing beats a new game mode added in as a free update, so if you are a returning player or even a new player this update is worth checking out.