---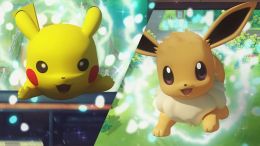 This week, Nintendo, Game Freak, and the Pokemon Company revealed what the franchise would have on the Nintendo Switch. There's a Minecraft-like title called Pokemon Quest that's free-to-start right now. Then, there's the core title that's in development and will be available late next year. As for this year, we got a duo of titles in the forms of Let's Go Pikachu! and Let's Go Eevee!. These titles are both callbacks to the original trilogy of titles, as well as a collaboration with Pokemon GO.
However, since its announcement, there's been a lot of confusion over what is and is not in the game. After all, the developers noted that this isn't a "core" title. After all, while it's set in Kanto (the original Pokemon region from Red, Blue, and Yellow), many of the core RPGs features will not be in the game, including how you capture Pokemon. Furthermore, wild Pokemon battles won't be the same either. So when it was announced that certain online features would be available in the game, it both excited players and confused them.
So, the Pokemon Company has clarified what will be available in the games and what won't. First and foremost, you will be able to both trade Pokemon with your friends, as you will be capturing Pokemon in the game, but just in the style of Pokemon GO. Furthermore, just as there will still be Pokemon Trainer battles in Let's Go Pikachu and Eevee, there will be the opportunity to battle your friends online. However, the catch is that you must be a part of Nintendo Switch Online.
Nintendo Switch Online is the service that Nintendo is going to launch in September. It's meant to be their dedicated service for all online games, as well as offer older titles to gamers to have fun with. Plus, for $20 a year, it's much cheaper than other services. And since Nintendo Switch Online will go live in September, and the Let's Go titles will be launching in November, it's fair to bet that all the bugs and kinks will be worked out by the time the games arrive.
Now, as for some of the online features that recent Pokemon titles like Sun and Moon have had like the Global Trade Station, Wonder Trade, and more, they won't be a part of the Let's Go titles. Given that these are meant for a more casual audience, it makes sense they wouldn't go this route. More than likely, a simplified version of hooking up with people to battle and trade will come via the titles. It also should be noted that co-op is still confirmed as well.
The response to Let's Go Pikachu and Eevee has been a bit mixed. On one hand, many are excited for a return to Kanto, and like the mixing of styles between the core games and Pokemon GO. On the other hand, many wanted the true core title to arrive this year, and they're sad it's not. However, they are happy that Let's Go isn't the core title.
Let's Go Pikachu and Eevee will arrive on November 16th. Stay tuned for any updates!