---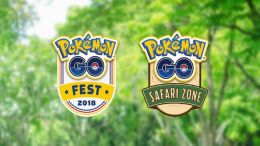 It's very true that any new idea in gaming that is massive in scope is going to need a "breaking in" period. This especially goes for multiplayer experiences where a lot can go wrong if you're not prepared. This has been a recurring problem for Pokemon GO. For when it launched, the mobile game from Niantic exploded in popularity, so much so that servers couldn't contain everyone that wanted to play, and certain phones couldn't handle them at all. But, none of that compares to what happened at Pokemon GO Fest last year in Chicago.
The event was made to be a celebration of the first year of Pokemon GO, bringing in trainers from all over the world for special Pokemon capture events and getting special prizes. Naturally, the event sold out. However, because of poor planning and not understanding how the close proximity of the players would affect the internet connection, everything went haywire. The entire event was a failure because few could actually do any of the events that were planned. Because of that, a lawsuit was filed against Niantic for "damages" in terms of money spent to go to the event just for it to be a bust.
You might think that because of this failure, Niantic wouldn't want to do a repeat. However, CEO of the company John Hanke is doing just the opposite, and as he tells IGN, this time, they're ready for what's coming, and he admits that last year was a failure he doesn't want to repeat:
"It was one of the most challenging days of my professional career.
So, what changed from last year to this year? Well, an event that happened in Japan between the two. In the city of Yokohama, there was a special Pokemon GO event called "Pikachu Outbreak". And it was because of the Chicago event that things worked well this second time around. They focused on how to keep the networks up, and arguably just as important, figured out how to make sure that the people weren't confined to a singular area like the Chicago event was. Because of this, not only did the network not go down, but over 2 million people in Japan participated in the Pikachu Outbreak event. And thus, they're bringing this knowledge to the Pokemon GO Fest 2018.
As for what will be different in Chicago this time, the event will be spread out over 2 days and will feature a 1.8-mile walking course. What's more, they'll be putting out special mobile hotspots all throughout the walking area to ensure that everyone has a close connection to the internet. To add to the grandness of the event, there will be "themed areas" featuring a lot of different Pokemon, and a lot more.
For people in other countries of the world, know that Niantic isn't ignoring you. They want to bring special events to cities in countries other than the US and Japan and are making plans for them right now. It's good to see that the company can take a hit and yet get right back up and try to make it right.