---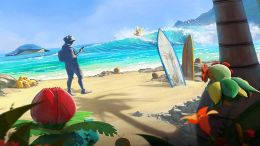 When Pokemon GO was announced in January of 2016, it was unclear what exactly it was meant to be. Then, as people started to see some of the gameplay and other aspects that made the title unique compared to other Pokemon games, and mobile games, they got excited. Once the game released in Summer of 2016, it was a full-blown phenomenon, and it was pulling in cash left and right. But then, things started happening, and people started to drop out of playing it for one reason or another. It's been doing steady ever since, and then last month happened, and it got a big bounce back.
As noted by Super Data Research, Pokemon GO witness a big boom in May, to the extent that the game has its highest player base since it launched in 2016. That's pretty significant, as the title has been out for nearly two years now and numerous improvements have been made to it ever since. What's more, just in the month of May alone, the game made $104 million dollars worth of revenue. Compared to May of last year, that's a 174% increase in profit. Clearly, the game is doing something right, and gamers are taking notice.
There are a lot of factors that likely are playing into the games bounce back. First and foremost, May is a kickoff month to Summer, where the game is the most played due to the outdoor nature of it. So gamers likely were either catching up or getting back into the habit so that they could be ready for June, July, and August.
Second, Niantic has been making steady improvements to the game over the last few months, including finally bringing in trading to Pokemon GO this month. And there have been more Raid Battles, special Pokemon events, and more. These likely drew back in players who wanted to get in on the new events and abilities.
Another thing that can't be ignored was that late in May, Nintendo and the Pokemon Company announced that the Nintendo Switch would be getting titles called Pokemon Let's Go Pikachu and Let's Go Eevee. These games are a fusion of the core Pokemon titles as well as the Pokemon GO series. Including having it so that Pokemon capturing events look exactly like Pokemon GO, but with advanced graphics. Furthermore, Nintendo noted that players will actually be able to connect Pokemon GO and Pokemon Let's Go, including being able to exchange Pokemon between the two.
In 2016, Pokemon Sun and Moon came out, which were some of the most successful Pokemon games ever released. And Pokemon GO was a big reason for their success. It's very likely that Pokemon Let's Go will be affected by Pokemon Go as well, especially given their connection to one another.
And that still isn't counting all the Summer events that Niantic is promising the Pokemon GO community, such as the second annual Pokemon GO Fest in Chicago Illinois on July 14th.
Given all of these factors, it's very possible that Pokemon GO could do even better in June than it did in May.