---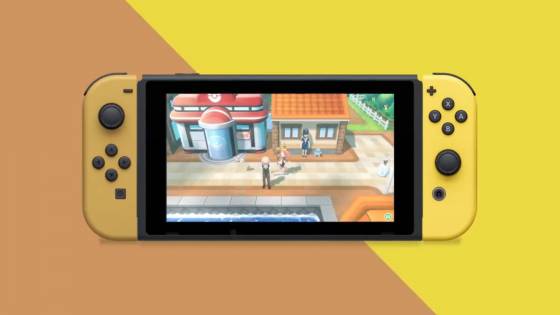 Pokemon: Let's Go Pikachu and Eevee are one of the big titles that are coming out this year. They'll arrive in November, and Nintendo along with the Pokemon Company are aiming to make this not only a big hit but one that can bridge the gap between the hardcore fans and the casual ones. But, to help promote the game even more, Nintendo has revealed that some very special Nintendo Switches are coming, ones that will celebrate Pokemon: Let's Go Pikachu and Eevee in style by having them grace both the Switch dock and the tablet.
These Pokemon: Let's Go Pikachu and Eevee Nintendo Switches have been confirmed for North America and Europe and will cost $399. While that may seem high, it must be noted that the special Switches will have either Pokemon: Let's Go Pikachu or Eevee pre-downloaded onto it. So you'll be getting the game and the console for about the same price as a regular Switch and the game. It's about a $40 dollar difference (not including taxes), but the $40 can be found when you look at the Switch Dock and Tablet back. For on it, you'll see embedded pics of Pikachu and Eevee, helping your Switch stand out from the others. Plus, it's also been confirmed that you'll get the Poke Ball accessory that allows you to bring a Pokemon from the game into the Poke Ball and walk around with it.
As noted, Pokemon Let's Go Pikachu and Eevee are aimed at bringing casual and hardcore fans of the Pokemon series together in a reimagining of the classic Kanto region. For you'll get the world traveling, Pokemon battling, and the story of the original game, but with capturing mechanics and accessibility that came with the hit mobile series Pokemon GO. In fact, the capture battles are basically a perfect mimic of Pokemon GO.
There are plenty of differences though between Pokemon Let's Go Pikachu and Eevee and the game its based off of, Pokemon Yellow. First off, Eevee is a potential partner, that wasn't there before. Then, there's the fact that the Switch's HD graphics will bring the Kanto region to live like no Pokemon game has been able to do before. Nintendo has also revealed that the Alolan forms of the Kanto Pokemon in the game will be present, and there might even be a brand new Pokemon arriving as well.
Add to all of that, there will be multiplayer on a grand scale, and co-op play. There's also going to be special new abilities, new "Ride Pokemon" for you to travel Kanto in, and more. And for those who are waiting for a more "core" Pokemon title, that is in the works right now, and it'll be out by late next year.
Nintendo is truly going all out for Pokemon Let's Go Pikachu and Eevee. Between the accessories, the balanced gameplay, and now the unique Nintendo Switch models, they want this to sell big. You can pre-order the special Nintendo Switches now.