---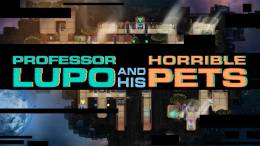 Don't you hate it when that happens? You have the best job in the world, or so you think, and you do it faithfully and are really good at it...then...something comes along and literally turns all of it on its head. Well, in a very special game coming later this year, you'll get to experience what it's like to have that happen to you, that is if you get the upcoming Steam/Nintendo Switch game Professor Lupo and His Horrible Pets.
The game was announced on Steam and now has been confirmed for the Nintendo Switch, which is a big get, as the team behind Professor Lupo and His Horrible Pets is the same team behind the beloved game Nihilumbra. So it's very likely that the game will quality, which is also evident video the trailers highlighting the game. For a full synopsis of the title, read the segment below:
" Professor Lupo is a scientist who has traveled to every galaxy to collect the most horrible aliens and has returned to the Earth in order to sell them to the highest bidder. While the alien showcase is going on, an attack occurs, and all the aliens escape and spread inside the Aurora Space Station. Your job as an intern of the spaceship has been always to study and take care of these creepy and also lethal critters. Anyway, this time you will have to add a new task to your to-do list: find a way to escape, or become your pets' dinner."
They aren't kidding about the dinner part, for in this top-down puzzle/action-adventure game you'll have to work your way through floor after floor on the Aurora Space Station to ensure your safety. If you fail? Well, you're going to get eaten, and in quite a slimy way.
Watching the Switch reveal trailer, makes it clear that the game will not only be fun, but visually interesting. After all, there are a 100 levels to traverse, and there are loads of monsters to get away from. There are the tiny ones, and then the massive ones that you'll wish you never really saw. But, as your "guide" reminds you, don't be discouraged, that actually lowers your survival rate.
Professor Lupo and His Horrible Pets coming to Switch is a big deal, as at present it's not coming to any other console. This is likely because indie games on the Nintendo Switch have been doing quite well since the console's launch last year. To that end, certain indie games have thrived on the Switch, even beating the sales the game has gotten on other consoles and even Steam. Now, yes, it's never a sure thing, but looking at the indie game world from a sales perspective, Professor Lupo and His Horrible Pets is a good bet.
So, the question now is, will you be able to survive the "pets" that your boss has collected? Or will you be their meal? The game will arrive this fall. Check out the Switch reveal trailer below.