---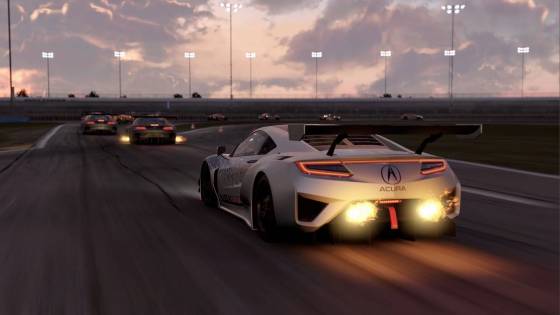 We're quickly approaching the next generation of consoles now that we're in 2019, with the new Xbox and PlayStation hinted at on the horizon. Meanwhile, Nintendo is selling Switch units like hotcakes and has that train secured for a long time. But what if you wanted something different? Something that's not just these same big consoles year after year? Well, friend, I present to you: The Mad Box. Project CARS and Need for Speed: Shift developer Slightly Mad Studios have begun work on this new console, and they intend to have it compete with the others. The reveal comes from Slightly Mad's founder and CEO, Ian Bell, in a recently created Twitter account. His first tweet about the console calls it "the most powerful console ever built", and that it will have 4K and VR support. Intrigued yet? The move is a little surprising since it comes from a developer who, up to this point, has focused exclusively on racing games.
Bell had a lot more to say to website Variety when asked about the console, giving a handful of details and specifications that pull back the curtain on what kind of console the Mad Box will be. "It will support most major VR headsets and those upcoming and the specs will be equivalent to a 'very fast PC 2 years from now'," he stated. "We're in early talks with manufacturers of components so we can't say much more right now other than we have the designs spaced out in detail." Going more into technical specifications, he revealed that the 60fps VR claim applies to both eyes, leading to a total of 120fps VR gameplay. The console will ship with a completely free development engine, something that Slightly Mad plans on offering to old and new developers alike should they choose to make a game. In the spirit of that, the console will be a worldwide one, even with Slightly Mad's London-based studio. When asked about exclusives, Bell left that up to the developers. "We think exclusives are 'exclusionary' but given that we'll be shipping a cross platform engine to all developers it will be their choice," Bell writes in an email. "As of now we have no plans to pay developers 'incentives' to exclude other hardware vendors."
While some may expect Slightly Mad to go with crowdfunding to assist in the console's development, they aren't actually doing that. According to Bell, the team already has "multiple investors" that are offering up the required amount of development funding in full. Even so, it's still early and the team hasn't decided on an investor just yet. Despite these early stages, we're going to see what the console looks like relatively soon. Bell also reveals that images of the early design concepts will be put out in about 4 to 6 weeks from now. Prices will match current console prices at the time of release, which likely means the eventual prices of the new Xbox and PlayStation. The hefty VR focus Slightly Mad is giving the console may not come as much of a surprise, considering their past experimentation with VR technology. Project CARS 2 shipped with virtual reality support in 2017, offering up to 12K resolution. The game was made on their very own Madness engine, which the team has used to create other simulations in their spare time.
According to Bell, the Mad Box is approximately three years out from release. If counting 2019, this means a 2021 launch date. VR support will likely include the HTC Vive and Oculus Rift, as Sony's PlayStation VR is specifically for their own console. I know what a lot of you are probably thinking at this point: Is this going to be another Ouya? The Ouya was an Android-developed microconsole that presented itself as a big competitor before quickly fizzling out upon release. While its crowdfunded campaign was a successful one, the miniature console sold extremely poorly, which ended up shutting down the various studios involved. Bell, in a response to this exact question, simply stated: "Absolutely not. Seriously." For the full report on the Mad Box details, make sure to head over to Variety's story where Bell gave most of his statements, or check out his official Twitter account.