---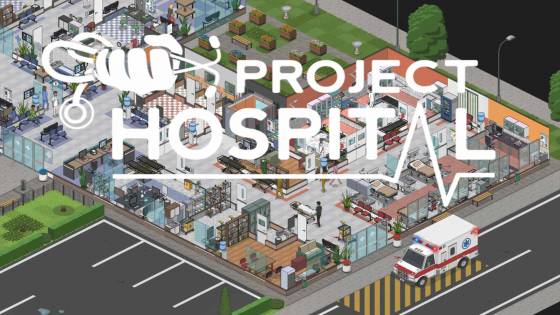 Hospital management games are nothing new - but have been in a decline for quite some time. Fortunately, ex-developers from Bullfrog brought the genre back to life with a more extravagant affair earlier this year with Two Point Hospital. However, those seeking a more stripped-down graphical look and more in-depth hospital management now have an option. Project Hospital is less a comedy-centric simulation game and more of a full-fledged management game. This game allows you to design a hospital in great detail, down to the corners of the walls, or simply choose to go with a predefined model of a hospital and become a doctor right away.
While Two Point Hospital is a more casual-friendly game with its lighter tone and reliance on humor, Project Hospital is more serious. While some may wonder why two hospital simulation games need to exist, with each taking different approaches to the genre, the benefits of having two games in it are immediately apparent. The upside to a more serious approach is that you do gain a greater appreciation for the monotonous tasks asked of people in a hospital. Things like contacting insurance companies are actually being used as a selling point, which lets you know that this is a far more serious affair than a game full of wacky ailments. You have to wear many hats as the overseer of this in-game world too.
Beyond being a doctor, you also have to manage the staff, and if you want, design things as well. Increasing your equipment allows you to run more elaborate (and expensive) tests for the betterment of patients while diagnosing ailments can be done with neat little puzzles. The management side of things ensures that you have enough staffing for all roles - from doctors to janitors, and to make sure that as many people are as happy as they can be.
Those new to the genre can enjoy a tutorial that will guide you through not only the simulation/management genre but also how to run a hospital and treat patients. Veterans of sims or those who are just gluttons for punishment can dive right into the sandbox mode. This allows you to make small clinics or giant multi-story hospital from scratch if you so desire. You can also expand things into running businesses affiliated with the hospital - like ambulance services. Beyond that, a campaign puts you in the role of a crisis manager out to save hospitals in a rough state - kind of like if Gordon Ramsay was set up to save a hospital instead of a hotel or restaurant.
Project Hospital just got a new patch making it a much easier game to play on Mac thanks to proper retina display support. Small quality of life improvements have been added to help prevent problems when switching doctors, and issues with paramedics getting stuck have also been remedied. UI fixes have been made as well to remedy problems with spelling and minor pieces of information not being listed for medical information. Those seeking a more serious approach to medical simulation might get a lot out of it, and it's currently $24.99 on Steam and playable on Linux now alongside Mac and Windows PCs.