---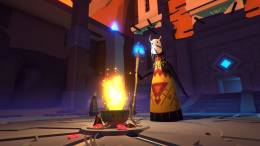 On March 6, 2018, the Indie Steam game Rangi will be launching on PlayStation's Virtual Reality attachment for PS4. The game was originally released Aug 3, 2017, for Steam on PC as well as for Samsung Gear VR. Now it will make its debut on PS4 in just a few days.
This game has music, art, and architecture inspired from throughout the African continent as well as folklore. You play the game as a shaman named Guriki and must save the world from a group of evil beings known as the Matata. They stole the life force of peaceful music giants, known as Musiki, which brought harmony to the world. You are tasked with getting the life force known as Chúkwú back to the Musiki. The life force is hidden throughout the world in complex puzzles and must be unlocked by solving the puzzles. You explore hidden temples, escape deadly traps, and navigate through the land while solving complex puzzles. You have a wand to take flight, move objects, and trigger various mechanisms.
Rangi's game mechanics and gameplay blend fully with the graphics and sounds provided with the PS VR. The PS4 is needed as well as a TV to be able to use the PS VR console. There is no price point at the moment for the PS VR version of this game, but it will probably retail between 10-20 dollars as that is what it was for Steam. Make sure to get your copy on March 6, 2018.