---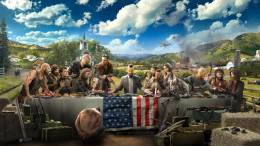 Whether you are a casual or hardcore gamer, there's no doubt you want to keep on top of what's coming out in the world of video games. For even when there are games coming out on consoles you don't have, it's always good to be in the know. And if you do have those consoles, you'll definitely want to be in the know in case you want to get the game for yourselves. With a new week comes new titles for the PS4, and here is a brief breakdown of the games released.
Easily the biggest game coming to the console this week, the highly-anticipated title from Ubisoft will bring the Far Cry series somewhere it hasn't been before. Montana. In the backwoods of this state, you play a deputy who has to defeat a cult leader named Father Joseph Seed and his followers from taking over a local town. How you go about this is entirely up to you. You can do it alone, or team up with many of the locals (each of whom have different personalities and weapon skills) to deliver justice for the townsfolk.
Plus, when you're done with the main mode, there's an Arcade Mode and more for you to mess with.
The United States is known for many things, but when it comes to baseball, that's eternal. As such, many video games try and give you the experience of playing in the big leagues. MLB The Show 18 aims to give not just the most visually stunning experience, but one that's as deep as the real game. With opening day now here, it's more prevalent than ever to be playing and watching baseball when you can.
If you're someone who likes to drive all over the road, and beyond it, then this might be a title you're interested in. MX vs. ATV: All Out gives you the chance to pick a ride with two or four wheels then race against AI or your friends in order to see who is the very best. With numerous tracks and rides to choose from, there are many ways to play and enjoy.
The Bridge Constructor franchise is one that has had a surprisingly deep lineup of titles, and with Bridge Constructor: Stunts, the game takes it up to another level. For here, you'll be putting your ramp and bridge-building skills to the test as you try and complete high-octane goals for your enjoyment and for others. Just remember, you're not just going for style, you do have to complete the stunt.
Other titles released this week include
With new games always being added to PlayStation 4's digital line up of games, you will never run out of games to play. Dust off that PS4 and check them out for yourself.