---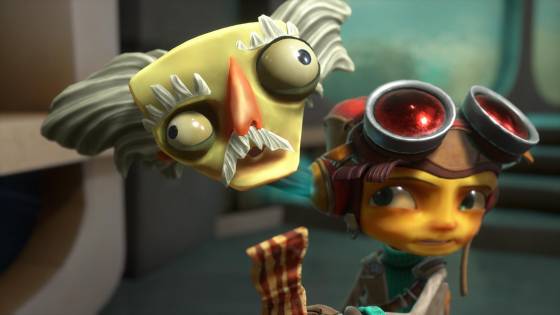 It's been a while since we've heard a peep from Psychonauts 2 over at Double Fine Productions. The last mention of it was the sad news of a delay, pushing it out of its projected 2018 release into the new and upcoming year. The delay was decided on in order to polish up the game further, which is something I think we can all understand and get behind. Thankfully, the team finally brought some new footage of it for our brains to drink in. The trailer dropped in the midst of The Game Awards 2018, which was a night full of exciting reveals left and right as the gaming community looked back on 2018's excellent roster of titles. While the trailer only provides a few brief snippets of gameplay, it does reveal a lot more about the game's plot and how it picks up from the end of the original Psychonauts.
Crazy to believe, but the first Psychonauts came out in 2005. That'll make it fourteen years later once the sequel finally releases. It's a game Double Fine and director Tim Schafer have wanted to make for a very long time, due to the original's insane amounts of cult-popularity. Without going into too many details, that game ended on a rather open-ended note, and one that seemed perfectly suited for a sequel to follow it. The new trailer provides our first in-depth glimpse into what exactly's going on in this new romp. We'll once again be playing as Psychonauts' brave, sarcastic protagonist: Razputin. Now in the company of secret Psychonaut agents Sasha Nein, Milla Vodello, and Ford Cruller, Raz is whisked away to the official Psychonauts HQ: The Motherlobe.
The Motherlobe is filled with dark and dangerous secrets, however. Ones the Psychonauts are sworn to protect at all costs. It's an interesting switch-up from the original's summer camp setting, and looks just as bizarre and devilishly creative. The sequel was brought about due to a crowdfunding campaign Double Fine launched on Fig in 2016. The game quickly and successfully earned what it needed, far surpassing that with a whopping 3.8 million dollars out of its 500,000 dollar goal. It's no wonder, then, that the footage looks so good! Psychonauts was always well regarded for its off-putting character and art design, and it's something that the sequel is embracing again in full, but prettier, and more modern. The trailer even seems to show our first look at the game's main villain.
You can catch all of that and more below, with the trailer clocking in at around 2 minutes long. "But how much longer do we have to wait to play the game?", I hear you asking! Sadly, the release date is still a vague 2019 window. Double Fine has assured that they're planning on sticking to this though, with no further delays anticipated. With that in mind, hopefully we'll see a more solid release date in the next few months. Once the game is out, it'll be playable on PlayStation 4, Xbox One, Windows PC, Mac OS, and Linux. A fantastic lineup of platforms! If you never got to enjoy the original, it's available on PC, Mac, and Linux as well. Alternatively, you can find it on the stores for the Xbox 360 or (more recently) the PlayStation 4. Get caught up, and join in the insanity with all the other fans!