---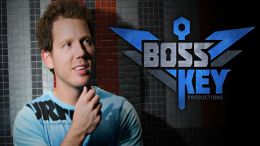 Seems like not too long ago I was just writing about Radical Heights before its initial debut a day later. Released in 'X-treme Early Access' just a month ago to the gaming public, Radical Heights was looking to shake up the Battle Royale genre with its sense of humor, style, and 80s aesthetic. It offered an early glimpse to fans of the genre and had a very arcadey, colorful kind of gameplay that focused a lot on acquiring money. It was the next game in line for developer Boss Key Games, after the lukewarm reception of their previous game, LawBreakers, received. LawBreakers failed to capture a sizable enough audience, forcing the company to shift its focus elsewhere. Sadly, the same fate seems to have befallen Radical Heights, as Boss Key founder Cliff Bleszinski (of Epic Games, Gears of War fame) made a statement on his personal Twitter announcing the studio's closure.
"As of today, Boss Key Productions is effectively no more," says Bleszinski in his statement. "Four years ago I set out to make a world-class video game studio and I hired some of the best talent in the video game industry. They worked tirelessly to produce quality products and, while we had our ups and downs, I'd like to think we had fun doing it." The statement goes on to admit that Radical Heights was a "last-ditch attempt" for the studio after the failure of LawBreakers, in an effort to get in on the massively popular Battle Royale genre. Despite initially positive reception for the game, Radical Heights was "too little too late", as Bleszinski puts it, and for this reason, Boss Key has closed down.
Bleszinski also had some personal news to share in regards to the closure, stating that he will need some time off and away from making video games to reflect and focus on his family and pet. In his own words, "Video games will forever be a part of who I am and I hope to make something new again, someday, however, I need to withdraw and take this time." Best of luck to Bleszinski in his future endeavors, and I know we'll all be wishing him, and the former employees of Boss Key, all the best; it's quite unfortunate how this all came about. Hopefully, we see him return to games at some point.
This all begs the question: What's the future look like for Radical Heights? At the end of the statement, Bleszinski notes that the servers for the game will remain up "for the near future", with no specifics on how long that will be. Therefore, if you want to check out the game for yourself before it closes down for good, now's the time. It's available on Windows PC as a free-to-play title, so maybe we'll see some larger groups on in its final days. There may also be word on a more definite date for Radical Heights' closure, so we'll be keeping a lookout for that. You can view the full statement from Cliff Bleszinski in his Twitter post. Rest in peace, Radical Heights.