---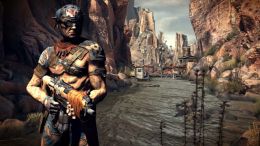 It's probably been a while since a lot of you have thought about the game Rage, right? You know, id Software's post-apocalyptic first-person shooter from the previous console generation? Rage released to the world at the tail end of 2011, showcasing id Software's id Tech 5 Engine but meeting to some mixed reviews and critical reception when all was said and done. Bethesda handled the main end of publishing for that game, and now, they are set to bring Rage back in a new way. Earlier last week, Walmart Canada ended up leaking Rage 2, as well as a good number of other games, in an advertisement. Rather than stick to denying the leak, Bethesda played along with it and have been hinting about the game on their Twitter since it dropped. Today, the company finally announced Rage 2 officially via their YouTube channel, showing a live-action teaser trailer.
The trailer is quite a stark contrast from the original Rage, though. The first game featured a dreary post-apocalyptic open world with muted, earthy colors and a more serious sense of style. Rage 2, on the other hand, seems to incorporate a colorful art style, bombastic humor and dives much more head-long into the zany Mad Max-ness of it all than the first game did. In fact, the original game got many comparisons drawn between it and Mad Max, so it's interesting seeing the sequel embrace the crazy a little more. The best part about all of this though? Bethesda revealed that they'll also be showing a gameplay reveal for Rage 2 as soon as May 15th, meaning we'll get to see what this is all about incredibly soon.
This announcement follows Bethesda's recent trends of reviving and re-working older IPs. Prey, Wolfenstein, and Doom have all seen a continuation in the form of new games put out by Bethesda over the past few years, with some being re-works, some being sequels, and some being just outright different games. Now, Rage joins the list, even if it's less old than the three series mentioned above. Bethesda must have good faith in Rage, though, to be making a sequel like this. Maybe the new style will help it be an even better game than its predecessor.
There weren't any details about platforms or developers at first, but that has since been fixed with the info found on the game's official website. Rage 2 is being developed by Avalanche Studios, though it stated being developed 'in association' with them, so other studios might be on-board. The game will be available for PlayStation 4, Xbox One, and Windows PC. The trailer can be viewed below, which is under a minute and gives you a good idea of what to expect from Rage 2's new aesthetic. Make sure to keep your eyes peeled for the gameplay reveal tomorrow! One has to wonder when and how Bethesda would've announced the game had it not been leaked since the timing of these reveals brush just before E3.
UPDATE!
Bethesda has recently uploaded the Gameplay Trailer. Below is the trailer for your viewing pleasure. Stay tuned for any updates.