---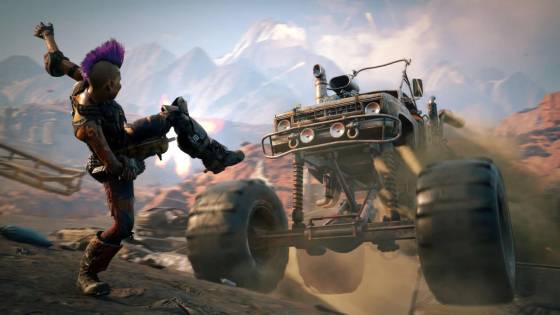 We are but a day away from the arrival of The Game Awards 2018. This awards show started out in a rather crude way years back, but it slowly grew into a very competent thing. And now, in 2018, it's not only a very highly anticipated event, it's one where many developers are aiming to show off either entirely new games, or, give major updates for their titles. Bethesda is one such company that is aiming to show off more of their title, and thus they have announced that at The Game Awards, they'll be showing off a new trailer for Rage 2.
For those who don't recall, the original Rage game was made by iD Software, and was meant to be the "next-level" of first-person shooters, which the team basically helped make with their Doom franchise. However, while it did do well enough, it wasn't the "major title" that they were hoping for. However, now that Bethesda has the rights to the game, Rage 2 is going to be making a big splash in one form or another. The first trailers for the game were shown just before E3, and then expanded upon at that event. It showed a much more colorful and insane version of the shooter title.
Given that Bethesda is known to make their worlds all the more outrageous and fun, it's not inconceivable that things will get even more wacky within Rage 2, it's honestly just a matter of how much Bethesda wants to push things.
Speaking of which, they also noted that despite Rage 2 not being fully out yet, that the game should be nominated for some unique "categories". I.E., categories that they themselves made up so that Rage 2 would win. Either way, a trailer was teased for the event, which makes the show all the more interesting.
But what's also interesting is that more and more people are popping up to say whether or not they're going to be at The Game Awards. For example, WB Montreal teased a new Batman title, but noted that while they'll be in the area of The Game Awards, they won't be at the show. Similarly, CD Projekt Red said that Cyberpunk 2077 won't be at The Game Awards either. In contrast, Koei Tecmo teased the reveal of a brand new title for PS4, Nintendo Switch, and PC at The Game Awards. Nintendo is also rumored to have some big updates or announcements at the show, and Geoff Keighley himself said that there would be 10 new game announcements, and several updates for "existing titles".
So as you can see, the show is shaping up to be something special, but how well it's executed has always been the problem. While the announcements are great, if the format of the show is poor, then no one is going to stay around for them. But, with all the teasers and trailer announcements going on, it might be too much to resist. We'll find out on December 6th what happens.