---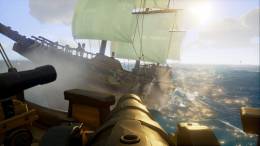 When Sea Of Thieves was first unveiled from Rare at E3 2016, people weren't exactly sure of what to make of it. On one hand, it looked impressive enough, and the idea of being on a pirate ship with your friends was enticing in and of itself, but would it hold up for the long haul? That was the question, and it's arguably still the question now that the game has launched on Xbox One and PC.
Despite these questions, Rare is still confident that the game will be something that players get attached to as well as play in the long run. On IGN Unfiltered, studio head Craig Duncan talked about how the game has a lot coming, noting, "There's more stuff we want to add to Sea of Thieves."
But, he also knows that there's going to be pitfalls that he didn't expect as well, and other studio heads were happy to remind him of this too, "Every single person I've talked to that launched a service-based game tells me, 'Hey, you think you know what you've gotta do—actually when you launch there'll be a load of different stuff.'"
From the mouths of studios to reality, Sea of Thieves does indeed have those "unforeseen" problems. Not long after the game launched, the servers became overloaded, so much so that the team had to stop new people from joining in the game in order to try and fix it. And though they've made some updates to fix these problems, they're still going to have some shutdown maintenance to try and get things to run even more smoothly.
Hopefully, they'll be able to fix things sooner rather than later so that they can become the game they truly want to be. But what is that exactly?
Well, according to Duncan, he simply wants Sea of Thieves to be its "own successful thing". Likely meaning that it succeeds on its own merits and not the legacy and brand name that Rare has, which is a fair goal. Duncan also praised the team working on the title both before and after the launch, even saying they're like a "mini-studio", and they have full control on how Sea of Thieves is shaped going forward.
Early thoughts and reviews about the game say that it's good, but it does have certain flaws. For example, despite the fact that players can play by themselves, there's a clear drop in fun and quality of title when that happens, thus making people have to go to multiplayer for true enjoyment. This has made some players unhappy. But, that doesn't mean it won't change in the future, even Duncan admits he can't predict what the game will be like down the road.
"If people are playing it in five years or 10 years and it's a very different shaped game, that's awesome for us as well," he said.
Either way though, the whole team at Rare hopes that Sea Of Thieves leads to new adventures and new opportunities.