---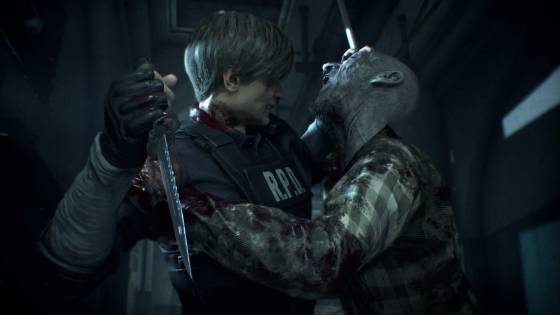 The Resident Evil 2 remake has only been out for several days now, and already, developer Capcom is stoking the fires on what's coming next. Today's news was formally revealed in a more vague fashion at Japan's Resident Evil 2 launch event, where Capcom explained that they'll be bringing some post-launch DLC the game's way in the form of a pack called 'Ghost Survivors'. Details were few and far between, but now, we have a little more straight from Capcom themselves. Revealed on the official Resident Evil Twitter account, Ghost Survivors will be dropping this February as a free update to Resident Evil 2. It will bring along with it three "what if" stories that center around three different unfortunate people who never managed to make it out of Raccoon City.
The three playable characters will each have their own segments to play. Players will be able to choose from Robert Kendo (the gunshop owner), the mayor's daughter, and a mysterious, unnamed U.S.S. soldier who got caught in the middle of the outbreak. Capcom hinted that certain parts of this content may feature randomized items and layouts of some sort, though how that will work remains to be seen. It's also unclear how much story these what if scenarios will actually delve into, but hopefully more, because more is always better. Ghost Survivors will also feature new enemies not found in the main game. This was all announced alongside a more modest piece of DLC coming in March: The '98 Leon and '98 Claire skins for Leon Kennedy and Claire Redfield respectively. As you might have guessed by those names, these costumes dress both the characters up to look like their original PlayStation counterparts from 1998 Resident Evil 2.
This likely won't be the last DLC content we see for the game either. Taking a look at Resident Evil 7, Capcom kept that game afloat and supported it for a good, solid amount of time. Over the course of its first year released, RE7 received numerous pieces of DLC content, ranging from the goofy to the more story-focused and serious. These consisted of things like mini-game modes, further "what if" scenarios for some other characters in the game, and a more definitive ending with the Not a Hero and End of Zoe story add-ons. Resident Evil 2 will likely get similar treatment, and it has the sales numbers to back it up. The game takes the framework of the PlayStation original and re-works it into a 3D format; gone are the pre-rendered backgrounds, fixed camera angles, and tank controls. Instead, the remake goes for a more Resident Evil 4 styled approach of over-the-shoulder horror/third-person shooting. While the game features most of the same stuff the original had, there are a lot of new additions that really flesh it out into its own experience separate from before; perfect for new fans and veterans alike.
Resident Evil 2 is now available worldwide for Windows PC, PlayStation 4, and Xbox One. A lot of Capcom's post-launch DLC for Resident Evil 7 ended up being free as well, but not all of them. It's unknown if the same will be the case for RE2. Either way, we have a lot to look forward to for when we beat the game and want to start over, or for if we've just finished it all already. The Ghost Survivors DLC will release on February 15th, and it's sure to bring plenty of surprises alongside it with its new character perspectives and enemies to encounter. Head to Resident Evil's official Twitter account to check out the announcement itself, or turn out the lights and watch Resident Evil 2's creepy trailer down below. From the looks of things, the Resident Evil 2 remake is going to have a lot of life to live going forward, and we honestly wouldn't have it any other way.