---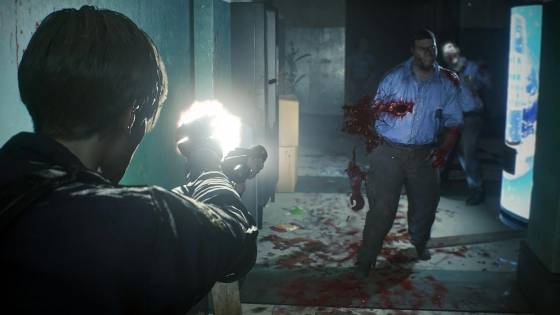 The year is about over, and that means a rather packed January is coming up for games. The month will be seeing some huge releases back to back, including Kingdom Hearts 3 and Resident Evil 2's remake. That last one has been the subject of attention lately, due to something curious website True Achievements spotted on the Xbox Store. Just the other day, they discovered a listing for something called the 'Resident Evil 2 1-Shot Demo' for release right before the game comes out. It's time to put your speculation hats on! Because as it turns out, Capcom hasn't confirmed or denied anything about this yet, which may not come as too big of a surprise. 2017's horror hit Resident Evil 7 got its own set of demos leading up to the game's release, so seeing Resident Evil 2 get one would be fitting.
What's most curious about this listing though is the terminology used, both in the title of it and its description. "This specially tuned demo allows you to experience the newly reimagined Resident Evil 2, but be warned: whilst you can continue as many times as you like after dying, you'll only have 30 MINUTES to complete the demo," the description reads. "Take in the horror atmosphere at your own pace, or make a desperate dash to solve all the puzzles Raccoon Police Department has to offer? The choice is yours!" This, combined with the 1-shot in the title, has led many to believe that once those 30 minutes are up, you can no longer play through the demo. This may not be the case, but we'll find out when it's closer to being time. Either way, as it says, you can die repeatedly without it affecting demo progress. It's all tied to that 30-minute timer. If you really are only able to play through it once with no play-backs, that will be an interesting amount of pressure on which way to play. Horrifying.
Resident Evil 2's remake is Capcom's attempt to remake the 1998 classic from the ground up, built together in a new engine with new gameplay mechanics and things to find. Considering the first Resident Evil got its very own remake way back in the day for GameCube, this one has been a long time coming. Capcom put it together in their sparkly new RE Engine, used to make Resident Evil 7 and the upcoming Devil May Cry 5. One of the most glaring changes in the remake is the camera perspective, which ditches the fixed camera angles and tank controls of Resident Evil 2 in favor of Resident Evil 4's over-the-shoulder camera and walking controls. Considering the popularity of RE4, this decision was likely a smart one, though tank controls and fixed angles do have their fans out there.
According to True Achievements, the demo is supposed to go up on January 11th and stay on its respective stores until January 31st. The game itself will be releasing on January 25th, and you'll be able to play it on Windows PC, PlayStation 4, and Xbox One. Only time will tell what the 1-shot nature of the demo represents, or if we even get one in the first place. Hop over to True Achievements if you're curious about the original story. As for RE2 Remake, there's plenty of footage available to soak in, so enjoy the horror and remade graphics just down below. There's no indication that this demo wouldn't appear on PC and PS4 as well, but considering Capcom's recent venture with an Xbox-exclusive Devil May Cry 5 demo, it's not out of the question. Wonder what will happen!