---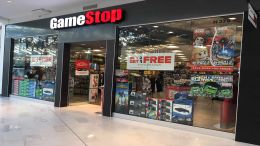 The landscape of gaming has been changing over the past several years, especially when it comes to retail sales vs digital sales. As time goes on, the gaming market has been growing ever-more digital, with every console providing every game digitally, Amazon providing an alternative to getting a person their retail games, etc. GameStop is one of the biggest and most well-known video game retail outlets in the United States, but because of this digital slide, times have been tough for them. This all seems to be coming to a head, as confirmed sources from GameStop itself have revealed that the company is in talks with various private equity buyout firms due to the financial struggles of late. No deal has been made as of yet, and according to the sources, there's no guarantee the company will sell itself, so we'll all just have to wait and see.
All of this may not come as too big a surprise, considering what's been happening with GameStop very recently. Michael Mauler, their former CEO, departed from the company in May after only three months in the position. According to GameStop, the departure was for personal reasons. The company has bounced back this past month with the hiring of Shane Kim as interim CEO. Kim also happened to be the executive and board director of Xbox in the past. With all of this shifting in leadership, GameStop's future has been in a rather uncertain and fluctuating state. Over 100 stores have closed recently due to all of this turmoil, and the company also had to contend with a scandalous credit card security breach this past year.
Over the years, the stores' goods have changed gradually as the industry has been shifting toward digital. Whereas GameStop of 10+ years ago sold almost exclusively video games, walking into one nowadays provides quite a different sight. Alongside video games, most of the stores have made room for physical merchandise, toys, collectibles, and items for digital purchasing. At the same time, they've also been focusing more heavily on used game and device sales in an attempt to provide something more people will come for. Despite this, the industry has adapted to that as well, providing more and more ways to play older games easily. PlayStation has re-masters and PS2 games sold right on their store, while Xbox offers backwards compatibility and streaming services. In a marketplace such as this, the news of financial assistance and buyouts from other companies could paint a very bright or very grim future for GameStop.
There's still enough popularity there chugging the outlet along, especially when it comes to avid fans of video game collecting. Collectors, including myself, tend to prefer having physical copies of their games rather than having it all stored digitally on a console. Despite this, shipping services such as Amazon and eBay do provide a means to that end as well. You too likely fall on one side of the spectrum, or maybe you're somewhere in between. Either way, this news is certainly a sign of the times, and it shows no signs of slowing down. If you're a frequent buyer at GameStop, make sure to keep your eyes and ears open for further information as the talks get further underway.