---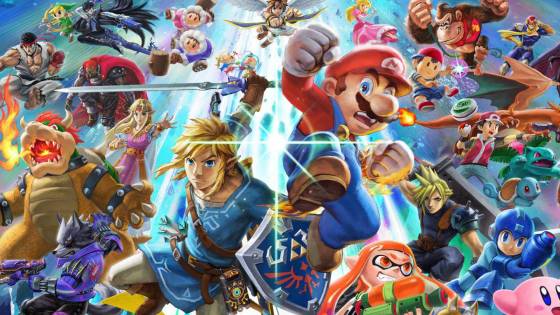 Gamers are less than a month from the arrival of Super Smash Bros Ultimate on Nintendo Switch, and with its arrival, comes the most packed and "complete" game in the Super Smash Bros franchise. This fifth title is bringing 80 characters to the mix (this includes the Echoes, Piranha Plant, and the five DLC characters that'll arrive after launch), brand new modes like World of Light, Smashdown, and more, as well as loads more cameos and appearance than any Smash Bros game before it. The game had a "final" Nintendo Direct before its launch in a few weeks, and Masahiro Sakurai has decided to do a bit of commentary on it.
This was part of his behind-the-scenes series with Famitsu, his newest column got released in part early, and it detailed many of the new reveals for the game. For example, he talked about how Ken Masters from Street Fighter got into the game as an Echo Fighter to Ryu. Sakurai made sure to reiterate that some of Ken's moves are different from Ryu's so gamers should definitely give him a shot.
As for the other new character that'll be in the game at launch, Incineroar, he noted that he really wanted to do a Pokemon character that had more of a wrestling moveset, and Incineroar matched that perfectly. His moves in Smash Bros Ultimate are directly taken from the games he was born in, such as Darkest Lariat and Malicious Moonsault. He also detailed how the voice actor for the Pokemon, Mr. Unsh? Ishizuka, got to record some lines before he passed away.
One of the more controversial aspects of Smash Bros Ultimate was the removal of Trophies, which were collectible items that gamers could get throughout the game. They were removed so that they could be "reborn" via Spirits Mode. According to Sakurai, he actually came up with the idea to remove the Trophies pretty quickly, as he wanted to focus his attention elsewhere. He also mentioned how making the trophies themselves was not an easy task.
For Spirits Mode, Sakurai admitted that there was a lot of information thrown at players during the Nintendo Direct about the mode. In fact, much of the mode focused on Spirits Mode so it could be explained in great detail, which left some confused. He noted though that once you play the game's mode, it will make more sense, and you will see just how cool and in-depth it is.
The online mode in Super Smash Bros Ultimate is going to be pretty different. Location is going to be a factor this go around in terms of who you fight. But, there will also be "Elite Smash Mode", where if you battle enough, and win enough, you'll get the chance to play against truly Elite players, which is something that many appreciated in Smash 4 via the "For Glory" or "For Fun" modes.
Finally, Sakurai noted that the Piranha Plant character will arrive about 1-2 months after Smash Bros Ultimate releases on December 7th.