---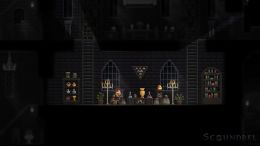 Scoundrel is an upcoming 2D stealth game with roguelike elements that's making its way to PC. Players take control of a band of thieves and misfits and set out on robberies against ostentatious Lords who house precious wealth.
The journey ahead won't be one that lacks trepidation as the Lords have gotten wind of your infiltration plans and have taken precautions against them. As you take to the shadows in pursuit of a coming challenge, you'll come to notice that various scoundrels are being thrown into the surrounding dungeons. These characters are procedurally generated and will offer various unique abilities every run. Each character is given a class that contains passive and active abilities, along with a special item and several traits that go into customizing to fit your preferred play-styles.
Pure stealth is mandatory, though it's never an easy path. The kicker is, there's no combat whatsoever, which makes treading the tightly controlled platformer corridors all the more difficult and punishing. Quick thinking and ample planning skills will be paramount in order to remain unseen. All of your objectives include making off with the Lord's valuables, so know that it's mission over if you're spotted.
Various dangers lie in your path, ranging from armed guards to environmental traps. Pesky civilians will be keeping a watchful eye on the streets to ensure you don't near the Lords, so it's good to know you're never safe, regardless of where you are. As your scoundrel skills improve, the Lord's will send vigilant animals to safeguard their belongings, meaning that you'll need to change up your strategies as you progress. Your adversaries will stop at nothing until you are found and sent to the dungeons, so take heed, and know that abandoning a mission will result in a failure.
This project by Bullish Games began as a stealth platformer prototype. In the pursuit to build a game that was both challenging and replayable, aspects from roguelikes were borrowed to allow for procedurally generated play. Due to the fact that the characters become regenerated upon being caught or abandoned, myriad classes and abilities will need to be tested as your missions proceed. Guard paths, trap spawns, and quest locations will also be procedurally generated, so each playthrough will feel free, and no matter how much you succeed, a challenge will also be present. As a stealth game at heart, the tension is what drives all motivation, as helplessness couples strategic planning.
In the purest sense of roguelike gameplay, permadeath will be implemented, so be sure not to become too attached to any one character. Upon completing a mission successfully, you'll be able to join The Thieves Guild, and use your spoils towards purchases that aid in paying off your debt, just in case permadeath is't brutal enough. The city map is composed of various districts that contain handcrafted levels that emulate the story within Scoundrel.
While no set release date has been mentioned yet, players can expect to play Scoundrel on Windows, Mac OS X, and Linux. If this one seems interesting, be sure to check out the gameplay trailer below.