---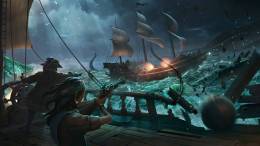 Sea of Thieves, Rare's upcoming open-world pirate adventure game, is just under two weeks away from launching for good. In celebration of that fact, and to give the game a final test for players everywhere, Rare has started its final open beta. What's most notable about this beta is that it's running the most current, up to date version of Sea of Thieves yet, so expect it to be a bit different from what you alpha players saw back when that was going on. Of particular interest is this bit of info for Xbox One X players: The game will allow for the 4K enhancements even during the beta.
So what sorts of high-seas excursions can we expect to get up to this time around? Everything from the previous tests will still be here, so those looking for Gold Hoarders missions or ship combat will be able to find that aplenty. As far as new features go for this beta, players can take part in quests from the Merchants Alliance Guild, one of the three guild factions found within Sea of Thieves. These quests mostly will involve scouting for various things that the Merchants Alliance Guild can use. In addition to this new addition will be the Skeleton Forts. When spotting one of these, indicated by a skull cloud above a location, you can either team up with others or compete to take out skeletons and gain lots of treasure. However, as the devs cryptically put it, there will be a great risk to doing so, alongside great reward.
Being the final beta, this will have the largest server load of any of Sea of Thieves' past tests. For this reason, be wary of any issues or bugs you may encounter going into it due to a large number of people on the server. Thankfully, Rare has stated their intentions to stay behind the scenes at all times during this weekend beta, in a concentrated effort to alleviate and fix any and all issues that may crop up; they know how big of a server test it will be too, after all. With that being said, hopefully, it's smooth sailing for all!
The final beta is live now and will last until this Sunday, March 11th, at 10am GMT/2am PT/5am ET, giving players most of the weekend to try the game out for themselves. All of this is, of course, in preparation for the release date of the full game on March 20th, bundling it close between a few other March releases. You can join in on the beta fun on either Xbox One (provided you have a gold account) or Windows PC, and Sea of Thieves will release for both of these platforms as well. Do note that Sea of Thieves is both an Xbox Play Anywhere and an Xbox Game Pass title, so as with all Microsoft releases, expect multiple options when getting the game digitally. You can view the full details of the beta in the developer update video below!