---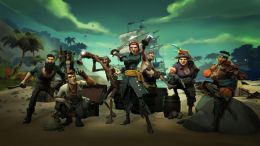 Sea of Thieves has been steadily receiving updates since its somewhat stumbling launch, smoothing out the game and making it more expansive for players. The open world online game is set to go through a handful of big expansions throughout this year, adding new elements, items, and areas to the overall experience. The latest patch, while small, does address a variety of issues, and developer Rare has just put out their patch notes for the update. Fans of Rare will take especially keen notice to what's mentioned at the beginning of the post: Banjo Kazooie. Indeed, the popular 3D platformer recently came upon its 20th anniversary, which Sea of Thieves players have been anticipating precisely for this reason. For a limited time (this July only), players can purchase a Banjo Kazooie figurehead for their ships.
The figurehead, simply titled the Bear & Bird Figurehead, is a realistic rendition of Banjo with a shield depicting Kazooie. Fittingly, it will cost players 1998 pieces of in-game gold, the same year the game came out. Despite a whole plethora of games coming out since Rare's founding in 1985, Banjo Kazooie became one of their most well-known hits when it released on the Nintendo 64, going on to become one of the system's most popular games as 3D-graphics were really getting into swing. It's unknown if Rare sneaked any other Banjo Kazooie references into Sea of Thieves, but either way, the figurehead is a really nice touch. Just make sure you get it while you can because once August rolls around, it'll be gone!
The patch that includes this item, Patch 1.1.5, aims to tackle quite a few known problems to make the game more fun for all the fans. Rare prefaced the notes by revealing they've been cracking down on cheaters over the past few weeks, banning a whole number of them from the game via email. There's been some various quality of life improvements, such as reduction of Shop clutter, PC players being able to exit to their desktops from the front end, cannonballs rocking ships, etc. On the more technical side of things, there's been the more general server and client crash fixes, alongside a big list of more specific issues and glitches that have been patched out. At the end of the post, Rare compiles all the issues still ongoing that they're currently looking into, so hopefully, we'll see those on the outs in the near future.
There's no better time to get into Sea of Thieves, as each update just makes the game better and better. If you're looking to become a pirate yourself, Sea of Thieves is available on both Xbox One and Windows PC. Due to the game being a part of Microsoft's Xbox Play Anywhere program, you'll be able to download and play it on the other platform free of charge if you purchased it digitally on the former. Those who are subscribed to Xbox Game Pass also have access to the game, so there's plenty of ways to set sail. For the full list of patch notes and fixes, make sure to check out Rare's official post before you set off swashbuckling!