---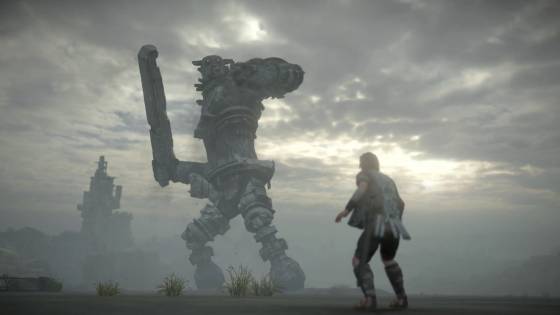 On January 2nd this year, game developer genDESIGN's website got updated with a happy New Year's message and a mysterious image showing a girl looking up at some sort of giant. genDESIGN, of course, is the studio behind 2017's The Last Guardian, headed by ICO/Shadow of the Colossus creator Fumito Ueda. Naturally, fan speculation went ablaze once the image appeared, but there hasn't been anything more said about it... until today. Speaking in an interview with Weekly Famitsu (translated into English by Gematsu), Ueda sat down and revealed that he and the team are currently at work on a completely new game. It's the first time the developer has opened up about it, and he had plenty of details to give.
According to Ueda, the game is completely new and isn't a sequel to anything that came before. If one considers his past three games, this fits. ICO, Shadow, and The Last Guardian are all set in the same world and hold vague connections to each other, but their stories are self-contained. genDESIGN is so early on in development with the new project right now that it's currently just in the prototyping stage. Basically, the team is testing different ideas to see what clicks before deciding what to move forward with. Development is being helped along and funded by game design fund Kowloon Nights, an interesting switch-up from Sony-funded The Last Guardian. This seems to imply that Ueda is no longer partners with Sony. He assures that despite the resources not coming from a giant like them, the new game "doesn't feel like an indie game."
He went on to clarify this point further. "We're ultimately aiming for something on the scale of Ico, Shadow of the Colossus, and The Last Guardian," Ueda continued. "If larger-scale development becomes of interest to us, then I think we will significantly expand our development system and take it to a large-scale development team to make it a big game." In essence, we can expect this new title to be similar to the size of past games from them. The aforementioned image that was posted on their website this past New Year's has since disappeared, but when it was on there, it went by the title of 'Beauty and the Beast 2018'. Currently, many people call this new game by that name as a working title. While Ueda didn't make any connections between the new game and the concept image, they're likely related in some form.
For now, that's all Ueda had to say on the matter. Some gamers might be worried about the release of this new game, considering The Last Guardian's notorious 10-year development. In that case, however, it was more due to switching of platforms and internal issues with Sony. The new game will likely hit its target platform, and Sony isn't associated this time around, so hopefully, we can expect it sooner rather than later. If you have yet to experience any of Fumito Ueda's games, you should change that, as they're considered some of the most artistic games of all time. PS2's Shadow of the Colossus recently got a from-the-ground-up remake by Bluepoint Games, which is available on the PlayStation 4. Similarly, The Last Guardian is also available exclusively on the PS4. If you want to play Ico, the most current version of it is on the Shadow of the Colossus/Ico HD Collection for PS3. The PS2 original will likely be harder to find. For the Famitsu interview highlights, check out Gematsu's translation of the talk. All we can do now is wait and see what Ueda has in store for us next.