---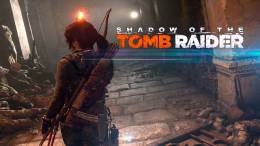 The past day or so has been abuzz with excitement over multiple leaks behind a new Tomb Raider called Shadow of the Tomb Raider, raising fan speculation that a new game was going to be announced very soon. Today, publisher Square Enix confirmed this and has officially announced the game themselves, providing us with two important dates. They also put out an official teaser trailer for the game, one that's rather mysterious and only 20 seconds long, but it gives fans just enough to go on to make some guesses for what it's gonna be about, and it looks pretty dark.
Shadow of the Tomb Raider will be the third entry in the rebooted Tomb Raider franchise that was kicked off by developer Crystal Dynamics, following Tomb Raider and its sequel Rise of the Tomb Raider. The reboot focuses on the origin story of Lara Croft and what made her into what she is present day. Shadow of the Tomb Raider will also apparently be the last game in the trilogy, being called the "climactic finale of Lara's origin story." Where the series goes from there is anyone's guess! Of particular note is the developer behind the new game, Eidos Montreal, a surprising switch up from Crystal Dynamics doing the previous two. You may know Eidos Montreal as the developers behind the current series of Deus Ex games, like Human Revolution and Mankind Divided. What this change will mean for the title remains to be seen.
As for the two aforementioned important dates, Square Enix revealed not only the date when we'll see the game in action, but an official release date too. The full reveal of the game will show on April 27th, and the game will release September 14th later this year. Judging by the closeness between the reveal and release dates, I imagine we may even see some gameplay during the full reveal, which crazy enough is only a little over a month away. As of right now, there are no details behind pre-ordering or special editions just yet.
The short teaser trailer contains quick shots of wilderness and Lara that don't give too much to go off of, but the most interesting bits are at the end, where it shows Lara looking out over the distance towards Mayan pyramids, hinting the game's location for those who want to speculate (South America). Alongside that, the title has an eclipse in the logo, suggesting a plot having to do with that (the name of the title too). We'll likely find out for certain during the full reveal. You can watch the teaser trailer in full down below! Shadow of the Tomb Raider will be available for PS4, Xbox One, and Windows PC, all on launch day (a marked change from the previous games' timed Xbox exclusivity releases). It will also be available on PS4 Pro and Xbox One X. The countdown begins for September 14th!