---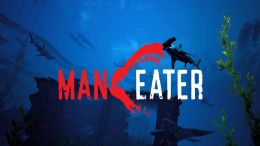 There are few things in this world that are universally terrifying. Something so scary that everyone cringes when their name is spoken. One such thing is sharks. And throughout gaming, there have been multiple interpretations of sharks. Mainly in the form of enemies or things you should avoid in underwater games. However, the team at Blindside Studios have an interesting desire to make sharks more than what they are in video games. Their title Depth put teams of sharks against teams of humans in a battle to see who was the best. And now, at E3 2018, the team is back with another shark-fueled game, Maneater.
Unlike the previous title, Depth, Maneater gives you full reigns over a shark, and it'll be your job to do whatever you want to do. But don't think this is a full-on killing spree game, well, it is, but not in the complete sense. There is a story to Maneater, and it's one that is actually rather sad. Apparently, your mother (shark) was killed by humans, and you were left alone to die. But you didn't, you survived, and you grew, and now, you're ready to take on anything and everything that will try and get in your path.
The game itself is set in the Gulf Coast of the United States, which actually gives you a lot of room to not just maneuver, but to go have "fun" in. The reveal trailer for the game shows off beautiful coastlines, exotic islands, the open ocean with plenty of boats, the bayous of the state of Louisiana and much more. And as a shark, you'll get to go to each and every place because it has water, and once you have access to those places, you can let loose in a way that only a shark can.
As the trailer gleefully shows, as a shark, you have the ability to do many things in order to get your prey. This includes bounding onto the shoreline to get unsuspecting sunbathers, jumping out of the water to go over obstacles like docks and bridges to get fisherman, or simply launching yourself into the air in order to get the most spectacular kill possible. You are a shark after all, and you have some great versatility in moves.
You might surprised to learn that this game is actually an action-RPG, and that's very accurate. How so? Well, Maneater will allow you to actually grow your shark in terms of skillset. Which means you can make your shark an even deadlier predator than it was on its own, which is quite the thought. It's unclear what exactly the abilities you'll unlock are, but more than likely it'll feature enhanced strength, speed, senses, the ability to do special kills and more.
Maneater is clearly designed to be a game with fun as the sole intention. The ability to live out a potential dream of being a shark and letting loose on the world. There is no release date for Maneater as of yet or a list of what platforms it will be on, but we will keep you posted as that information comes out. Stay tuned for any updates!