---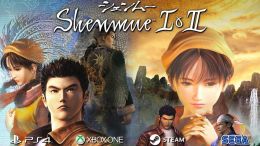 The Shenmue series has been getting a lot of attention of late, thanks to the upcoming release of 1 and 2 remastered and the long-awaited third game currently in development. Alongside the Yakuza series, Shenmue is Sega's series under a slightly different style. Both are open-world action adventure games that take place in Japan (and China, in Shenmue's case), both feature intense brawling-focused fights, and both have offbeat and relaxed simulation/slice-of-life minigames and segments. Everyone's been waiting on a confirmed release date for Shenmue 1 & 2 Remastered after Sega assured it would be coming out sometime this year, and today, it's officially been announced. The news first broke on Major Nelson's Xbox Blog, with Sega following up shortly afterwards with their own announcement; Shenmue 1 & 2 Remastered are coming this August.
The games were certainly well overdue for a remastered treatment, with the first coming out in 1999 and the second in 2001. There haven't been more nitty-gritty details on the graphical improvements this time around, but Sega has confirmed that both games will have an updated modern user interface, along with scalable resolutions and a choice between modern or classic styled controls. Players will be able to fiddle around with both and figure out which they like best, though fans of the originals may have an obvious preference. Thankfully, both games will also allow players to pick between the English or Japanese dubs, which wasn't a choice in the original Shenmue. There's been some footage of the remasters, which looks nicely updated even if they're not remakes ala Yakuza Kiwami.
Shenmue 3, on the other hand, still has a ways to go. Fans of the series had been waiting on a third game since 2001, with hopes gradually dwindling over time. During E3 2015, Sega announced a Kickstarter campaign for Shenmue 3, which would see the return of series creator Yu Suzuki to oversee the project. The Kickstarter was successfully funded and more in practically no time and the game has been steadily in development since, with not much else to go on. The game promises to be an ambitious undertaking though, echoing the development of the original Shenmue back in the 90s. At the time, it set records as the most expensive video game ever developed, which turned into a sour fact after its lack of commercial success. Thanks to its strong cult following though, we can look forward to the third in the coming years.
As for Shenmue 1 & 2 Remastered, the game will be available as a bundle on August 21st, just a month from now. Players can play it on PlayStation 4, Xbox One, and Windows PC. The console versions will be available both via retail and digital, while PC will only be on Steam. Pre-orders for all platforms will open up soon, though the collection is available for pre-order on the Microsoft Store at the cost of $30 USD. Sega was kind enough to present us with yet another new trailer for the remasters alongside their announcement, which you can view below in all of its HD glory! If you were one of the many who didn't get to play Shenmue back in the day, now's your chance.