---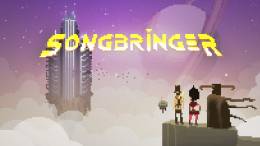 Songbringer is an action-adventure role-playing indie that has recently released a free DLC update. Songbringer: The Trail of Ren will be included in the base game price, offering various fresh unlocks, and a new boss. Additional achievements, items, crafting combos, and special boss attacks have also need to be included. The new boss is named Ren, and he comes with quite the zealous backstory. You will descend into the mysterious depths of Ekzara if you wish to encounter him, and learn of his pas there. All you'll know in the beginning is that he was once a member of Roq's scout team, and is the brother of the infamous Kiel. Nathanael, the developer over at Wizard Fu, warns that this will be one of the toughest boss fights yet, but notes that if you can defeat him, Ren's abilities are yours to keep.
One of the newest items players can encounter is The Cursed Ring. Assuming you're up for the challenge, you can scour through Eiael's Snare to find it, and the journey will probably be in your best interest considering the fact that the ring boosts your final score, but grants special attacks to every boss in the game. Similar to the Calamity Ring of Dark Souls, this item increases the health of all other enemies and acts as a hard mode that can be turned off as soon as the item is unequipped. Use this for the ultimate confrontation, and if you're curious to see what new mechanics the bosses contain. The two new crafting combos include Flamethrower and The Hyper Boots. The former spews out fire, and the latter allows Roq to run incredibly quickly.
For those unfamiliar with the base game, Songbringer offers a journey within a vibrant, procedurally generated pixelated world. You're adopting the role of an accidental hero, Roq Epimetheos, who contains a propensity for generating music and partying. Roq is into cruising the galaxy with Jib, the Skybot, who joins him on a ship named Songbringer. During your early exploration, you'll come across a nanosword hidden within a cave on Ekzera. Claiming it awakens an ancient evil, but hey, it's a powerful, shiny spectacle that you get to keep. Jib, the Skybot is a pivotal part of the story and serves a great purpose in regards to gameplay. Jib began his life as a human boy and eventually took an interesting in programming artificial intelligence. He eventually made it his long-standing career, and upon his deathbed, illegally transferred his own consciousness into a skybot. Players can use his abilities to scan the bodies of slain enemies, and for uncovering valuable loot. Jib is controlled automatically by the AI, but can also be controlled manually if you're ever looking to utilize the local co-op mode. The generated worlds are non-linear, meaning you may tread in any direction you like, and play the dungeons in any order you like. Songbringer and its new free DLC update can be played on Steam if you're running Windows, Mac OS X, or Linux.