---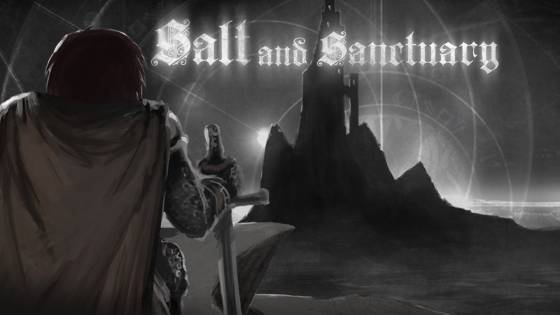 It's no secret that the Dark Souls series has inspired and shaped many games since its introduction. Video games that sport similar gameplay styles have even developed a popular Internet-made genre name: Souls-likes. It can be hit or miss for some, but for 2016's Salt and Sanctuary? It paid off very well. Indie developer Ska Studios announced today that their hit 2D action-RPG is making its way to Nintendo Switch, adding to the already large amount of platforms the game exists on to this day. It wouldn't be a port announcement without a cool looking new trailer, and Ska provided just that. The port is being handled by Blitworks, who also worked on the ports for Owlboy and Kerbal Space Program.
Salt and Sanctuary wears its inspiration on its sleeve in all of the right ways. The game features a large and dreary world with tons of things to explore, lore to discover, and enemies to fight. Since the game is 2D, the real challenge was converting Dark Souls' careful style of combat onto a flat plane. As the game's success will tell you, though, Ska Studios nailed it. "The two of us wanted to create a Souls-like game that we wanted to play, and finding that so many others who wanted it too warmed our dark little hearts," said James and Michelle Silva, of Ska Studios, in a recent press release. "Bringing Salt and Sanctuary to the Nintendo Switch means more people who like dismal, satisfying games can play our very dismal, satisfying game." All of the other RPG-like elements you find in Dark Souls, you'll find just as well in Salt and Sanctuary.
The Switch port will feature all the content from the PC and PS4 versions of the game. Just as well, you'll be able to play two-player co-op in local multiplayer, a feature that fits perfectly on the Nintendo Switch. Salt and Sanctuary follows the story of the Saltborn, who begins the game shipwrecked near the gigantic kingdom that makes up the game's locales. A key feature in Salt and Sanctuary is the salt retrieval mechanic, which works just like the souls mechanic in Dark Souls. The game has plenty of difficult enemies and bosses that will make it hard to hold onto your salt, and it's all rendered in a fittingly gloomy but super pretty hand-drawn art style. It's worth noting that the Switch port will also come with extensive multiple language support.
Thankfully, we can expect Salt and Sanctuary on the Switch very soon. It will release on August 2nd, just next Thursday, on the Nintendo Switch eShop. A physical version, titled Salt and Sanctuary: Drowned Tome Edition, will be sold at retailers sometime this holiday season. The price for that version is currently unknown, but its primary digital release will run you $17.99. If you'd rather play the game on something else, you have many options to pick from; it's available on PlayStation 4 (its debut system), PS Vita, Windows PC, Mac OS, and Linux. Below is the Switch announcement trailer, which you should make sure to check out, especially if you haven't seen the game before!