---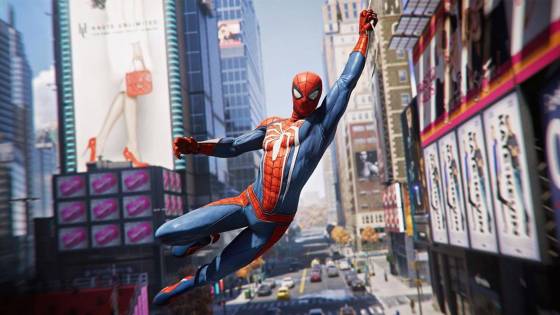 Every month is an important month for video games, even if there isn't a major game release in that month. For every new month brings a new look in how the video game industry is doing in one way or another, or what trends can be determined based on the numbers given. September was actually a rather big month for various reasons, including big 1st and 3rd party releases for some of the big 3 in publishing. And not surprisingly, when the dust settled, there was a clear winner for September, and his name was Spider-man, and by a large margin.
Just how well did Spider-Man sell? Well, we already know that it sold over 3.3 million copies, as that's what it sold in its first three days. But now, based on what the NPD numbers tell us, it's already the third best-selling game of the entire year. Which means at present, the only games that have sold more than it in the United States is God of War and Far Cry 5. An important note there is "in the United States", for that's all the NPD calculates. This can be proven by the Monster Hunter World numbers, which worldwide is over 10 million, definitely more than Spider-man has sold, yet in the NPD, it's at No.4 for the best-selling titles of 2018.
So what does this prove? Well, not that it needed proving, but it shows that the team at Insomniac Games totally killed it with their Spider-Man title and more than, they're going to be asked by fans and critics to make a true sequel. They're already doing that in part because of their three-part DLC which just released with the first episode called "The Heist", but no doubt fans won't be satisfied without a full sequel.
One final Spider-Man fact, the PS4 game made more money in its first month than every other Spider-Man game in their first month combined. And that includes some critically praised titles like Spider-man: Dimensions.
Moving on, another big hit on the September NPD was NBA 2K19, which had the biggest first-month sales of any sports game in history, and given the popularity of Madden, that's a bit get.
Now, ironically, two games that were released in October made it onto the September NPD numbers, because they included the first week of the new month. So this led to Assassin's Creed Odyssey coming in third place. But given that it was a cutoff, it's hard to position it in comparison to other titles. However, early estimates put it close to what Origins did last year.
The big surprise though was that Super Mario Party made the list at No.9. And it was the best-selling Switch game of the "month". Super Mario Party was a return to form in many ways for the party game title, so it for it to be so high up on the NPD despite a "short" window proves that it could be the next million-seller for the Nintendo Switch. For the full report by the NPD Group watch the video below.