---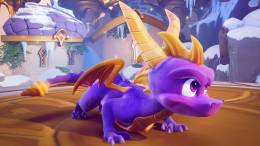 Activision has been on a hot streak lately with bringing back beloved characters from our childhoods, haven't they? A remake of the original Spyro the Dragon trilogy has been rumored for months now, due to Activision's success with the remastered Crash Bandicoot N. Sane Trilogy just last year, developed by Vicarious Visions. Earlier this morning, leaks were springing forth about the rumored Spyro remake, and Activision hopped onboard shortly after, officially announcing the remade trilogy once and for all. The remake will be known as the Spyro Reignited Trilogy. Alongside it came details of the release date, pricing, screenshots, and a trailer!
The developers of this trilogy will fittingly enough be Toys for Bob, the developers behind the Skylanders franchise, which Activision also owns. Seeing as how Skylanders initially got its start through Spyro himself with their game Skylanders: Spyro's Adventure, Toys for Bob feels like a natural fit. It's also perfect timing too, as the 20th anniversary of Spyro is just around the corner. The Reignited Trilogy will feature all three of Spyro's original PlayStation 1 outings from the late 90s to 2000: Spyro the Dragon, Spyro 2: Ripto's Rage, and Spyro: Year of the Dragon.
All three titles are being remade from the ground up just as Crash was, with new graphics, sounds, cinematics, and gameplay that ensures to stay faithful to the originals. The soundtrack will be getting re-imagined this time around, and Activision has assured that they're also planning on working with a lot of the original voice cast, including Tom Kenny, the voice of Spyro in Ripto's Rage and Year of the Dragon. Toys for Bob has been getting feedback from the original developers over at Insomniac Games in order to keep true to the titles. In a statement on the PlayStation Blog, Toys for Bob said: "Now twenty years on, we are deeply honored to have the responsibility of remastering Insomniac's historic trilogy, and our most powerful motivator is knowing how important Spyro is to millions of passionate fans across the globe."
Now for the release details! Spyro Reignited Trilogy is coming to PlayStation 4 and Xbox One on September 21st. It's cool to see that the previously PlayStation exclusive games will now be making their way to Microsoft's console, albeit in remade form. Also, mind-boggling to realize that the Xbox wasn't even a thing yet back in those days. There's been no word on any possible Nintendo Switch or PC versions, though that could be subject to change at some point. In any case, the trilogy is available for pre-order now and will be running you the same price as the Crash trilogy did: $39.99. PS4 Pro and Xbox One X enhancements will also apply for those of you who own those. Make sure to check out the reveal trailer below to get a look at the Reignited Trilogy in action!