---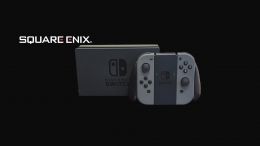 When it comes to console sales, nothing gets gamers to the system faster than having a good assortment of titles. And not just different genres, but having many different developers come to the system. The more you get from certain developers, the more confidence gamers have in the system. There was a big worry that when the Nintendo Switch came out that it wouldn't have the big names it needed to keep sales going. Yet, that's proven to not be the case, especially with quality developers like Square Enix coming in and bringing more and more titles to the Switch.
It started off simple with the surprise hit RPG I Am Setsuna. Then they brought in Dragon Quest to the mix, multiple times even in Japan. Lost Sphear came after that, and now, gamers are waiting eagerly for the title Octopath Traveler. This will be Square Enix's first exclusive title on the Nintendo Switch, but according to one of the heads of the game, and division leader at the publisher, it likely won't be the last.
In an interview with Game Informer, Tomoya Asano talked about how Square Enix was beginning to shift focus and bring more titles to the Nintendo Switch. They even went so far as to turn the team behind Octopath Traveler into their own gaming division, one that is dedicated to making Switch games. He notes:
"Square Enix has decided that it wants to focus on original titles for the Switch."
If this is true, this would be a huge win both for Nintendo and for gamers. After all, Square Enix is known for developing quality titles, and everything we've seen for Octopath Traveler, made by many of the people who made the hit 3DS games Bravely Default and Bravely Second, looks amazing. So once they get that game under their belt, their potential is essentially limitless.
Now, as Asano noted, some factors will tie into how well Octopath Traveler sells when it arrives on July 13th. Signs do point to the game doing well though, for all the trailers about it have gotten good number views on Youtube. And last year, they released a demo for the game and it got over 1 million downloads, and that was just at last tally, the demo is still available for download now.
The game has also gotten good buzz because the team has acknowledged that they listened to a lot of feedback from players of the demo and have incorporated a lot of things into the game since then. This level of trust could be huge in the long run.
All that being said, Asano also revealed something a bit more close to home, or in this case, the present, for he revealed:
"There are several other titles that we're currently working on for Switch."
So that means that Square Enix is working right now on more Switch titles. It's unclear if these will be original or ports of big titles, including the much-teased game for Switch, Final Fantasy XV, but the fact that they're working on them is huge.
With E3 2018 days away, it's possible we could get teases as to what's coming. Stay tuned for any updates!