---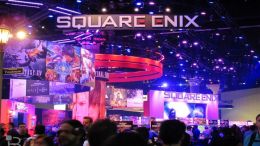 E3 always features the staple press conferences that everyone has come to expect, but every now and then, another company jumps in on the action when the timing is right. Bethesda, for example, held their first E3 press conference in 2015 and has had one every year since. 2015 was a pretty unique year for this, as it was also the year Square Enix had their first ever conference. As many probably recall, that was memorably when they unveiled the Final Fantasy VII remake to the world. Square Enix hasn't had a conference since then, but they're changing that up this year, with a minor caveat.
The company announced via Twitter that they'll be holding their own conference again at E3 2018. Rather than being a traditional press conference, where everything's displayed in front of a crowd on-stage, this one will be more of a 'digital showcase'. Basically, this is like what Nintendo has turned their E3 conferences into for the past few years: A pre-prepared video showcase detailing all the creator's works coming up in the year. While different from Square's 2015 on-stage conference, there's still a ton to look forward to with this showcase, and a lot of big news to expect. But what specifically CAN we expect from it?
The first and foremost is, of course, Kingdom Hearts 3. The previous mainline entry in the Kingdom Hearts series, Kingdom Hearts 2, released on the PlayStation 2 in 2005. Since then, the series has gained numerous side games and stories that are all important in setting up the plot for the upcoming KH3, which has been in development for a few years. Square Enix has been going with the rough release window of this year for the game, so chances are we may find out an actual release date during the showcase or at least see some new footage.
Shadow of the Tomb Raider is the other title that can more-than-reasonably be expected to be shown. With its impending release of September 14th and the recent reveals for the game, Square Enix is likely set to show off more to fans and provide further info about what we can expect from it, outside of the couple of trailers we've gotten so far. Dragon Quest XI, similarly, has a September release date planned and has been out in Japan for a little under a year now.
Of course, that leaves the games that are more uncertain. The Final Fantasy VII remake has been in the shadows for quite some time since we last saw it, with all of that in-between time being committed to the development. It would be exciting to see more of it after all this time, but with so little info on how progress is going, we'll just have to see. Dontnod's sequel to Life is Strange is in a similar boat, albeit with no footage yet. With their upcoming game, Vampyr set to release shortly before E3, we may or may not hear news about the sequel. Every E3 has games like these, don't they?
The Square Enix E3 Showcase will take place on Monday, June 11th, at 10 am PT/1pm ET. It will be viewable in both English and Japanese, similar to their last conference. This puts Square Enix's slot just before Ubisoft's conference, which will air at 1 pm PT/4pm ET the same day. Microsoft and Bethesda will be the day before, June 10th, while EA will be getting the early start on June 9th and Nintendo following up last on June 12th. Sony hasn't announced their conference date/time yet, but it will probably be similar to previous years, taking place at nighttime after Square's and Ubisoft's.