---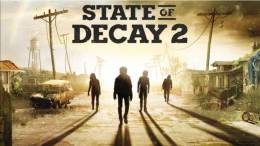 There's been a lot of survival horror games over the past decade, especially ones with zombies, but with each new version there is the need to step it up to the next level. This is where State Of Decay 2 comes in. The original game was a hit, but one that was rather rough around the edges. The sequel aims to put those edges away and deliver a truly special experience. And if a new gameplay trailer from PAX East is to be believed, you're going to have a lot of impact on the world around you.
First and foremost, State Of Decay 2 is going to feature a massive world for you and other players to inhabit and explore, and fight zombies in. The detail on the world is deep, as is the number of things you can find and do in it. The need for supplies is vital, and the trailer shows off you getting them and then using them to expand your settlement, including being able to make gardens to grow crops, building a machine shop you can make consumables, and so much more. Which is good, because you're going to need them to help build up your community, which is also shown off in the gameplay trailer.
In the video, we see that you can look at the people in your community and then promote them to leadership if you feel they can help. This will no doubt lead to many possibilities in terms of what can be done to make your communities stronger in the game. This is actually an important part of State Of Decay 2, for you're not playing as a sole "hero", you're playing as a member of this community. if you die, that character is gone, but you can live on as another member of the community. This makes every life in the game important, and every death can have a big impact on the community.
Now, of course, there is also the matter of killing zombies in the game. State of Decay 2 boosts the "mother of all zombie outbreaks", to the extent that there are only pockets of humanity left in the world, meaning you are severely outnumbered. Thankfully for the players, there are numerous ways to take out the zombies.
The trailer shows them off in brutal fashion, from being able to sneak up on them and take them out like they were nothing, to pummeling them endlessly, to even being able to grab and throw the zombies, you'll have a lot of tricks up your sleeve. But, you'll also need the right arsenal, as the zombies have different levels of durability. So you'll need to be mindful of what you have, and what you don't have, as you approach potential threats, else you'll find yourself on the wrong end of the beatdown.
State of Decay 2 is coming to Xbox One and PC in May, stay tuned for more updates on the title as it gets closer to launch.