---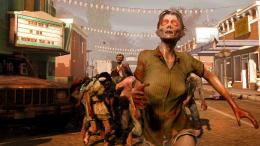 Back when the first State of Decay became available to Xbox 360 and PC gamers in 2013, it proved to be a smashing success, doing so well that it allowed the devs over at Undead Labs to start work on a sequel. That sequel subsequently ended up being announced at E3 2016, followed by another trailer and announcement at E3 2017 the following year which planted the game for a 2018 release. Now, the time is fast approaching, as publisher Microsoft finally revealed the release date to be May 22nd. However, players will have two different editions of the game to choose from, and some different options for playing it.
The first edition is, of course, the Standard Edition, which as you probably guessed is just the game itself and that's all. What you see is what you get here. This edition will be available for $29.99. The Ultimate Edition, meanwhile, will give you the game, two post-launch DLC packs, an Xbox One copy of State of Decay: Year One Survival Edition, and early access to State of Decay 2 on May 18th, just 4 days before it launches. The Ultimate Edition will be $49.99, so you'll be getting a lot of bang for your buck, and it's great for people who want to also play the original game! Both editions are now available for pre-order, whether digitally or through your preferred retailer.
State of Decay 2's big new highlights are its open world and its 4 player co-op for when you feel like playing online with friends. These are more expansive improvements to the more confined survival gameplay from the original. The main meat of the gameplay, meanwhile, builds off of the same formula from before, with gathering resources, managing them carefully, and looking after the safety of fellow characters. It will also be running on Unreal Engine 4 this time around to run these improvements, in contrast to the CryEngine used for the previous. Release dates for the post-launch DLC will be announced at an unknown later date.
Since State of Decay 2 will be an Xbox Play Anywhere title, you can purchase it digitally on one of its two platforms, either Xbox One or PC, and be able to play it on both. If you happen to be a subscriber to Xbox Game Pass, the game will be available for download through that as well on launch day, in accordance with Microsoft's recent addition of Xbox One exclusives day-one to that service. The publisher is hopeful that with the lower prices and more purchase options, anyone looking to get into State of Decay 2 will have a good amount of affordable ways to do so. Let the survival begin when State of Decay 2 launches on May 22nd for Xbox One and Windows PC (or May 18th for those early access players who purchase the Ultimate Edition).