---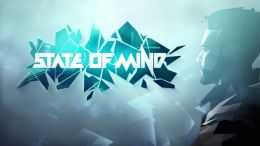 State of Mind is an upcoming futuristic thriller that has players delving into transhumanism. Through exploring themes of disjuncture, separation, and reunification, their world will slowly begin to tear between a utopian virtual future and a dystopian material reality.
The year is 2048, and Berlin is in shambles. Due to the lack of resources, illness that is brought upon by the polluted air and water, and a city on the brink of collapse experiences an uptick in crime as citizens struggle to survive. Companies and government forces have promised to provide remedies through technology progress, which comes with a catch. The developments are still in their infancy, and offer human minds to become one with machines. As these testing phases progress, humanoid robots and drones slowly begin to replace humans within the public sector, as all aspects of the city become interconnected, surveillance has become an inescapable and omnipresent force.
Richard Nolan stands as one of the few journalists who openly critiques these mechanical innovations in the public eye. After he wakes up in a hospital following a series of explosive attacks, he finds that his wife and son have mysteriously vanished. Upon this realization, Richard begins to suspect that he and his family have become more than mere bystanders to the storm of rivalizing ideologies pertaining to humankind's salvation between the digital utopia and dystopian reality. He begins to believe, due to this prevalence in the public eye, that he stands at the center of some kind of experiment.
The domestic grievance that begins to ensue evolves into a thriller regarding worldwide conspiracy, which aims to determine the fate of humanity, and in turn, strip citizens of their autonomy. Richard will need to determine whether a perfect digital utopia stands as a valuable cause, and ponder whether a virtual paradise may become affected by material quarrels or needs. Upon living alongside a super artificial intelligence, demonstrating whether the force stands as a savior or a declaration of the dispensability of humans will begin to commence. The impending doom regarding what humanity may summon to after these merging times begins to become less predictable as the future elicits little hope.
The world design of State of Mind consists of a multi-layered landscape. With sci-fi elements, players will be able to take on the role of Richard as they explore a world drenched with a unique visual style that combines low-poly character models with realistic environments. Five additional playable characters are to be featured as well.
In an effort to reconstruct Richard's past, players may utilize dexterity, deduction skills, and research to unravel as much as they can over time. Given Richard's journalistic credentials, finding information will be easier than it appears. The global conspiracy that is being tackled combines questions regarding how society stands within ubiquitous digitalism, transhumanism, and surveillance. The alarmingly realistic vision of the near future will strike players with a cerebral challenge as the story-dense narrative runs its course.
While State of Mind has no official release date just yet, it's expected to arrive on PC sometime this year for Windows, Mac OS X, and Linux.