---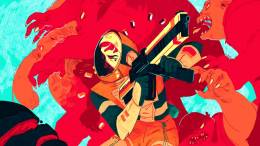 After nearly a year following the initial release, the developers over at Pixel Titans have welcomed STRAFE: Millennium Edition with a new patch that ensures players can now experience "the worlds bloodiest roguelike" on Linux. This first-person shooter creates a unique experience through constantly generating full levels during each new playthrough. A fresh buffet of enemies are promised in every randomly generated room, providing every run creates a new, bloody challenge unlike the last. Players must successfully traverse through deep space while slaughtering their way through four different locations, with secrets looming around most corners. With an abundance of weapons, enemies, and a fiery soundtrack, STRAFE promotes exploration and devastation as a means to success.
STRAFE utilizes uber-gore technologies, meaning destroyed enemies explode with blood that never fades away as time passes, which adds to a world drenched in mayhem. Like any great gore-intensive first-person shooter, speed is the key element of gameplay that couples well with the intensity of the randomly generating levels. Players must always stay on the tip of their toes, as within a split second, enemies could pour out from around the corner. STRAFE is meant to feel like an intense adventure from start to finish, meaning enemies are haphazardly teleported in without pattern, so keen observation is paramount to getting out alive. Though there is a heavy focus on making the gameplay feel vibrant and fluid, STRAFE is not without a story. Players adopt the role of a Scrapper who only has one chance to navigate through the dangerous terrain that sits on the edge of the galaxy. The possibility of death, with the assumption that such an outcome will maintain that nothing about the world will ever be the same again, is a pressure inflicted on the player immediately. Though, with a game as no-holds-barred as this, nothing less should be expected.
STRAFE is filled with life-like gravity physics, vibrant 32-bit colors, and a soundtrack ripped right out of 1996. The game comes equipped wth four different game modes, that consist of a campaign, strafe zone, speed zone, and of course, murder zone. The campaign offers the quintessential experience of a quick, singleplayer roguelike first-person shooter, and aims to adhere to player expectations. Strafe zone contains a daily challenge attached to a leaderboard, becoming the closest to a multiplayer experience. Players only have a single attempt at reaching the high score a day, so diligence will certainly be a prerequisite. Speed zone also contains a leaderboard, but is tied to a weekly challenge that consists of running a locked level speed as many times in hopes of shaving down one's time. The catch is that players must still manage to kill 90% of enemies they encounter while maintaining their speed as the top priority. Murder zone consists of the player surviving ten rooms of slaughter, while unlocking new tools between attempts in hopes of landing as many ruthless kills as possible. Be sure to check out the trailer below to see all of this madness for yourself. If this seems like your cup of tea, STRAFE: Millennium Edition can be purchased for Linux on Steam and Humble Store now for $14.99.