---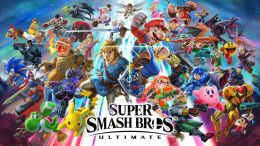 During the second official Nintendo Direct this year, Nintendo revealed that a Smash Bros game was going to be coming to the Switch, what's more, it was set to arrive sometime this year. Though the teaser was light on details, it was confirmed that the Inklings from Splatoon would be in it, as well as a bunch of other characters. Yet, we didn't know if it was going to be a port or a full-on new game. And now, we have our answer, as Super Smash Bros Ultimate has been revealed.
Nintendo spent over half of its E3 digital event detailing and breaking down the game, and it was well worth it. First and foremost, Smash Bros Ultimate will feature EVERY character that has EVER been in a Smash Bros game. This including the DLC characters from Smash 4 like Bayonetta, Cloud Strife, Ryu, Corrin, as well as characters who were one-offs in their appearances in the franchise. This means Pichu, Solid Snake, Pokemon Trainer, Ice Climbers, and more will be returning. This means that just with returning characters, there are 65 characters in the game.
Smash Bros creator Masahiro Sakurai stated in the event that bringing all the characters together was the main goal of the dev team, as they felt this is what players wanted. To that end, they've also made a plethora of changes to various characters in order to further listen to fan requests over the years. This includes new moves, Final Smashes, and even labeling the clones as "Echo" characters. There are even new and modified standard techniques for players to learn as they battle.
Stage wise, there will again be regular and Omega forms, and there will be new stages in the game including Great Plateau Tower from Breath of the Wild, Mooray Towers from Splatoon, and much more.
The biggest reveal of all though might just be that though there won't be many new characters in the game, they did reveal one...Ridley from Metroid.
Sakurai noted at the Nintendo Treehouse event that it was rather difficult to bring Ridley into the title. However, due to the fan "outcry" for it, which apparently was pretty strong overseas, he felt compelled to bring Ridley in. The character has been shrunk a bit to be more manageable, but his ferocity and intensity is perfectly intact, and gamers will no doubt have fun playing as him when the game releases.
Super Smash Bros Ultimate will also feature many new items, new assist trophies, and many new tweaks and additions to truly make this the ultimate version of the game. You can expect Bomberman and Rodan from Bayonetta to be Assist Trophies, as well as the Squid Sisters, there were also be new items like the Launch Star from Super Mario Galaxy and a healing aura item as well.
It's clear that much time and effort was put into Super Smash Bros Ultimate, and the game isn't even done yet. The game is scheduled for a December 7th release date barring a delay. Check out the full 25-minute breakdown video so you can be in the know about what's changed.