---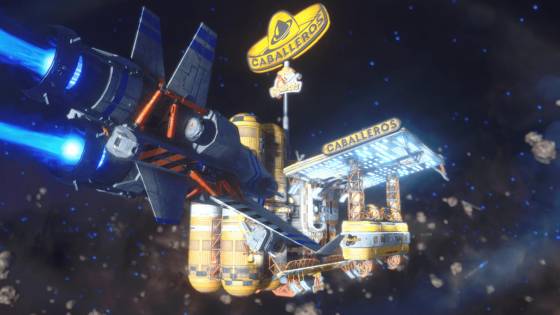 Rebel Galaxy was a pretty neat space simulator game from back in 2015, brought to us by the developers over at Double Damage Games. Just last week, the company announced an even bigger sequel that's currently in the works, going by the name of Rebel Galaxy Outlaw. They promised more to share in the months ahead, and it seems some more has already arrived by way of a new gameplay reveal trailer dropped first on IGN. This gameplay trailer serves as the first official look at Rebel Galaxy Outlaw in action, aside from the PAX West gameplay demos that got put out just before. Double Damage describes Outlaw as a "blue-collar space combat adventure packed with outlaws, explosions, gleefully unrealistic spaceflight, and a hell of a soundtrack," which sounds right in line with the great things the first Rebel Galaxy provided.
Rebel Galaxy Outlaw has players taking on the role of former outlaw Juno Markev, with the game's setting taking place 34 years before the events of Rebel Galaxy. Markev ends up getting pulled back into her outlaw lifestyle, consisting of a whole lot of crime and space fights. Double Damage wanted a stronger emphasis on the story this time around compared to the former game, giving it more detail and depth which is clearly shown in the trailer. As Double Damage co-founder Travis Baldree puts it: "We took what worked from the last title, and then went a little crazy. It's got a stronger focus on story and place, a huge jump in detail, and while it still works great for folks with a HOTAS at home, I think we've managed to make space combat accessible and fun for everybody else in a way that nobody has managed before."
The gameplay will also consist of various side activities the player can participate in, such as billiards and dice poker. There are plenty of side jobs on offer, and a lot of unique characters to give those jobs to you. The spaceship battles will still maintain the big prominence, being one of the original game's highlight features. Glimpses of the new space combat can also be seen in the footage, which looks as fast-paced and explosive as ever. It's all backed by a soundtrack heavily inspired by country rock and blues, two genres of music that seem to just pair nicely with space outlaw stories. The first game took place in a randomly generated universe, but it's currently unknown if Outlaw will do the same or go down a more story-centric linear route of storytelling. Trading and bounty hunting are also key features.
All in all, Rebel Galaxy Outlaw appears to be coming along nicely, and we can expect it soon in Q1 of 2019. The first game is currently available on Windows PC, PlayStation 4, and Xbox One for a not-too-expensive price. Outlaw, meanwhile, will be making its way to Windows PC, PlayStation 4, and Nintendo Switch. Xbox One was surprisingly left out this time, but we may see it on there eventually. In any case, you can view the gameplay reveal trailer just below here to see if the game is up your alley. It also has an official website for all details and media about it, including some snippets of other gameplay features like ship customization. Space fans won't want to miss out on this one.