---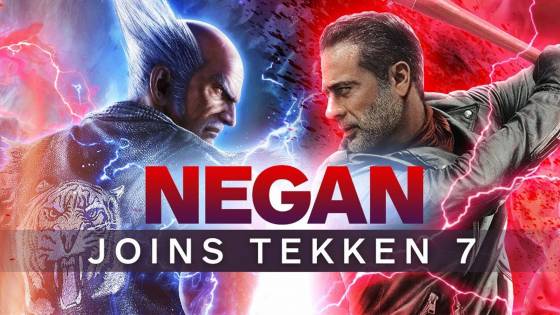 Tekken 7 was praised upon its release last year for its absolutely stunning level of detail. From its graphics to its fights, to the way that gamers could customize everything, it was all top notch. And then, with their Season Pass, they revealed that legendary video game characters Noctis (from Final Fantasy XV) and Geese Howard (from Fatal Fury/King of Fighters) would be joining the fight as well. And now, via EVO 2018, we know three of the Season 2 characters for the game, and one is a character no one saw coming.
For Tekken fans, they'll be happy to know that Anna Williams and Lei Wulong will be returning to the series with the trademark styles, and a tiger. But at the end of the Season 02 trailer, a shocking reveal was made in that Negan from The Walking Dead will be coming to the game. This is significant for numerous reasons. One of which being that despite The Walking Dead having a big video game presence, Negan has never been in any of those games. So this will mark his video game debut.
Second, if you look and listen to the trailer, they play sounds clips from The Walking Dead TV series, where Negan is played by Jeffrey Dean Morgan. And though not fully shown, they silhouetted him in the trailer, and he appears to be a perfect one-for-one match to how Jeffrey Dean Morgan looks in the series. So Bandai Namco is banking on the popularity of the series, and the popularity of Negan for this Season Pass.
For those who don't know the series, The Walking Dead is set in a world that has been run over by zombies. Negan is the leader of a group called The Saviors, but they're anything but. Negan is a dictator who runs his crew via fear and intimidation. His biggest way of doing this is via his beloved barbed-wire bat named Lucille.
In his debut in the comics, in Walking Dead #100, Negan delivered one of the most shocking moments of the series, where he killed the beloved character Glenn by beating him to death with Lucille. When Morgan debuted on The Walking Dead TV series, they re-enacted that scene nearly point-for-point, which helped cement him as one of the biggest bad guys in TV history. Something that has continued with the show continuing on.
Negan will no doubt use Lucille in Tekken 7, and though odd, it's hard to deny that this would make him a very unique character compared to everyone else in the game. Gamers are a bit mixed on the reveal. For on one hand, he is a popular character, and has quite a following, and is on one of the most popular TV shows in the world. However, this has some worried that if Negan can get in, then ANYONE can get it, and that's not something Tekken fans are looking forward to.
There's no current date for when the Season 02 content will begin to roll out. In the meantime you can play Tekken 7 on PS4, Xbox One, Windows PC, and Arcade systems.