---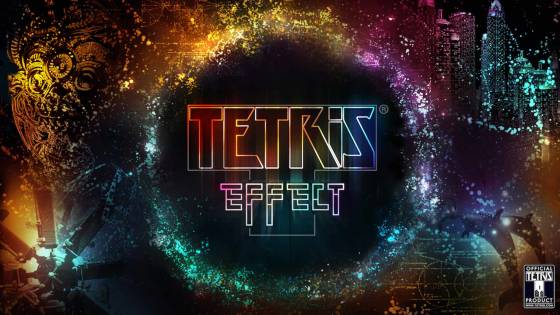 It's been a while since we last heard from Tetris Effect, the upcoming Tetris game developed by Rez creator Tetsuya Mizuguchi. Under his own company of Enhance, Inc. with developer Resonair, Mizuguchi is bringing the Tetris formula into exciting and colorful new territory with VR (though you can play the game without VR too). Those who know Mizuguchi's work likely know how visually stunning Tetris Effect will be, as his games tend to be very sensory with the use of trippy visuals and great music. Tetris Effect looks to be this in spades, and with a VR component added, it'll feel somewhat akin to playing Rez: Infinite in VR. Its official release is just over a week away now, and Enhance has decided to let us try it for ourselves ahead of time with a limited time demo. Dubbed the Tetris Effect: Weekend Trial Demo, players will get to download and try out three unique modes from the game for a small period at the start of November.
The first of these modes is Journey Mode, the game's main campaign mode made up of individual stages with their own graphics, sound effects, and music tracks. The demo will grant access to three of these stages, though it wasn't said which ones or what they would involve. Alongside Journey, we have two more arcade-y type modes: Marathon and Mystery. Marathon Mode, as the name implies, is for the speedy. It will challenge you to get as good a score as you can within 150 lines, so this mode will be all about breaking high scores. Mystery Mode takes Marathon Mode's formula and adds a good/bad luck system to it, where both positive and negative effects take place randomly as you play. Due to the randomized nature of Mystery Mode, anything could happen, so it'll always keep you on your toes.
Enhance also revealed the names of the games other modes for the full release; there's a huge amount too. Things like Ultra Mode and Sprint Mode utilize timers such as three minutes or clearing 40 lines. Master Mode is described as "insanely fast Tetris", and will be perfect for those who prefer to play that way. Other modes include Combo Mode, Target Mode, Purify Mode, All Clear Mode, etc. Needless to say, there will be plenty on offer in Tetris Effect for every kind of Tetris player imaginable. During the Weekend Trial Demo, players will be able to tune in on Saturday, November 3rd for a special 24-hour Ritual event. Playing during this time will rack up your score toward a community goal amount, and if it's reached, every player who participated will receive an in-game avatar. While the avatar can only be used and seen in the demo, the full game will feature weekly events like these all the time, complete with their own avatar rewards.
The limited time demo for Tetris Effect will kick off on November 1st this Thursday and will run until November 5th on Monday morning. If you're even remotely interested in the game, or on the fence about buying it, this will be a perfect opportunity to try it out completely free. The demo, as with the game, will be available exclusively on PlayStation 4. Those who have PlayStation VR can choose to play it that way. The game will also support 4K and HDR for PlayStation 4 Pro users, and considering the visuals on display here, it'll be quite a looker. You can see what I mean in the trailer for it below here. Tetris Effect itself is releasing in full on November 9th, shortly after the closure of the demo. While the game will cost $39.99, it's available on the PlayStation Store for a 10% off the pre-order price of $35.99. Between that and the demo, many players will likely end up deciding if Tetris Effect is right for them.