---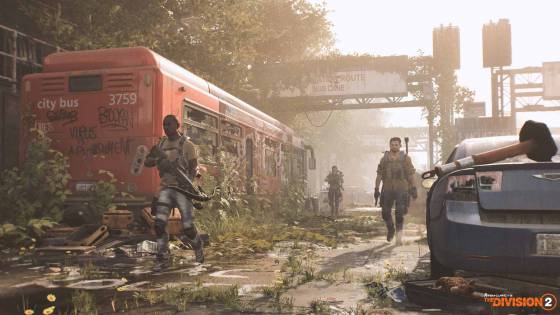 Early last month, Epic Games announced the launch of their very own PC game storefront: The Epic Games Store. This happened around the time of The Game Awards, in which Epic also revealed their exclusive partnerships with some smaller indie developers. The Internet quickly took note of it, seeing Epic as a potential contender and alternative to Valve's Steam marketplace. Well, it looks as if that competition has intensified further. In a recent press release, Ubisoft revealed some surprising info: Tom Clancy's The Division 2 will be foregoing a Steam release in favor of the Epic Games Store. Epic and Ubisoft partnered up recently to secure this exclusivity, and Ubisoft will also distribute the game on their own digital storefront. Extra surprising considering The Division 2 was previously listed on Steam for release. Ubisoft has since confirmed in further statements that they have no plans to release it on there anymore. "We entrust Epic to deliver a smooth journey for our fans, from preordering the game and enjoying our Beta to the launch of The Division 2 on March 15," stated Ubisoft's vice president of partnerships Chris Early. "Epic continues to disrupt the videogame [sic] industry, and their third-party digital distribution model is the latest example, and something Ubisoft wants to support."
Knowing the details behind the scenes with the Epic Games Store, it's not too hard to see why Ubisoft would make the jump. Upon launching it, Epic revealed that 88 percent of a game's revenue earned would go to the developers themselves, with the remaining 12 percent for Epic. This is a heftier split in the developer's favor when compared to Steam, which originally went with a 30 percent cut to Valve before instituting a new (still less favorable) tiered system. More revenue for the developers is a sure-fire way to get some people on board, and Epic holds a similar spot to Valve in being a huge, well-known name in the game industry. Ubisoft wasn't content to stop at The Division 2, however! They added on the announcement by revealing they will "also partner on additional select titles [coming to the Epic Games Store] to be announced during the coming year." What titles these will be isn't known, but that's a huge win for Epic Games, and one of their first notable AAA partnerships towards their store.
Ubisoft assured that they will fulfill any and all pre-orders made for The Division 2 on other online stores before the game's launch. The original Division released in early 2016, and went on to break multiple sales records for both Ubisoft and the industry. That certainly bodes well for The Division 2's newfound partnerships. Both games are an interesting mixture of third-person shooting, role playing games, and online multiplayer. Whether you're a lone wolf or a teammate, there are plenty of ways to enjoy the Division, which is set in North America after the breakout of a deadly virus. The second game takes place several months after the first, and focuses on an ongoing civil war between marauders and survivors within Washington D.C. As with the first game, The Division 2 features co-op options for all missions, and the moment-to-moment gameplay looks and feels like the first. A new addition to the game will be raids, and up to 8 players can hop in on these and have a good time.
Tom Clancy's The Division 2 will be launching on PlayStation 4, Xbox One, and Windows PC on March 15th. For PC players, your choice will now be split between the Epic Games Store or Ubisoft's store. Some of Epic Games' other notable partnerships and acquisitions include Supergiant Games' early access darling 'Hades', and the final episode of Telltale's The Walking Dead: The Final Season (rest in peace, Telltale). With a huge partnership like Ubisoft under their belt, it's hard telling how the Epic Games Store will grow throughout 2019. Seeing this will most certainly inspire other developers to jump over. Many have already started comparing the situation to the 'console war' between Sony, Microsoft, and Nintendo. While that may seem extreme, competition often does good things for business, and hopefully, this will improve Steam too. A PC giant like Steam probably isn't going to go anywhere anytime soon, but they've lost one big AAA game, and that means things are heating up.