---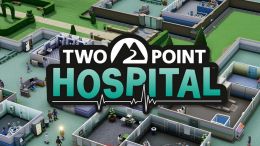 Management and construction games are nothing new. In fact, they are their own genre that has existed for quite some time believe it or not. And some truly legendary franchises have come from it, including SimCity, Roller Coaster Tycoon, Cities: Skylines, and more. But when it comes to hospital themes in this genre, the picks are few and far between. But in 2018, or potentially 2019, there is going to be a game that changes that, and it's called Two Point Hospital. And it may just go above and beyond the call in this genre.
The game doesn't just have you managing a hospital, it makes you do so much more than that. In fact, it actually has you handling an entire healthcare organization from top to bottom. And how you perform in this hospital will affect your ratings more than what you build where. What's more, as you move on from hospital to hospital, you'll have to learn the ins and outs of each one, because each one is different, very different, and has different goals and achievements that you must try and acquire to be successful.
What's more, the developers at Two Point Studios have noted that they want the player to feel like they're truly managing things on all levels, not just trying to make things run smoothly, but actually advancing everything around them. Thus the drop in/dropout gameplay with the hospitals. You're doing all you can everywhere in order to make sure that you're ready for whatever comes next. And there will be a lot to deal with in this hospital game.
Recently, a new 5-minute video has debuted from the Two Point Hospital team, and it debuted two new threats to your hospital and its staff and patients that you'll have to deal with. For example, you will actually have to deal with ghosts in the game. How does that work? Well, ghosts are the results of you failing to save patients. And because you didn't save them, you now have to deal with the aftermath. This is a unique twist on things, as most games wouldn't even consider doing something like this.
Now, as for how to get rid of said ghosts, you'll actually have to train your staff to deal with them. One option is actually training the janitors to become Ghostbusters, for lack of a better term.
The other revealed condition is called "Mock Star", and this is when a patient gets it in their minds that they're a rock star through and through, and you have to treat them through psychiatric sessions with a licensed psychiatrist that you'll have to hire and train. If successful, they'll return to their normal state.
This is just some of the things you will have to deal with as you run the various hospitals, and there are going to be even more threats and dangers as you go on. There's no current release date for Two Point Hospital right now, but the game is scheduled to release sometime in Q4 of 2018 for Windows PC.