---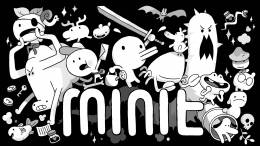 Next month a unique game called Minit will be launching. It was developed by Kitty Calis, Jan Willem Nijman, Jukio Kallio, and Dominik Johann and will be published by Devolver Digital. The game art is done in black in white with a Zelda-like retro feel and looks quite basic at a first glance, but it is more than it seems.
The story and gameplay of Minit are quite unique and revolves around the player finding a cursed sword that washes up on the beach which causes you to die after one minute of gameplay and time getting reverted to before you stepped outside your house. The only similar game that comes to mind is The Legend of Zelda: Majora's Mask in which you as the player have a 3-day time limit to save the world before it is destroyed and right before the countdown to doomsday ends you can play your ocarina to revert back to the first day. This game is a little different in that mechanic and instead after one minute, regardless of how far or how much you did, you will drop dead and then appear back at your house.
While it may seem like one minute is not enough to accomplish anything, everything you do before you revert back home will be saved. Items that you may have gathered each time you go out will be saved as well as any powerups or new abilities you may have learned. This includes things such as finding shoes that will enable you to run faster, finding an extra heart of health to permanently boost your health cap, or getting an upgrade which makes you stronger and enables you to push and lift heavy items. Also, any new areas you have discovered will enable you to travel to them quickly from your house with a type of fast travel that won't waste that minute.
Minit is definitely a different type of game from the many we can choose from these days and offers a unique play style not often found. It will be coming out on April 3, 2018, for PlayStation 4, Xbox One, and Steam. There is no price point at this time, but I don't see this game being more than $20 or so.