---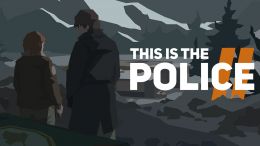 This is the Police 2 follows the acclaimed noir drama of that jump-started a franchise about interpreting the law as players see it.
Players are encouraged to test the waters as they run the sheriff's department of a small town. Cops must be managed, cases must be investigated, and tough decisions must be made to determine which individuals become incarcerated under your watch. Driven by a mixture of strategy and adventure, and set in a cold border town running dry with violence, players must maintain civility, while trying to stay out of prison themselves.
In the town of Sharpwood, most residents know their neighbors by name, and faithfully stay true to their traditions, no matter how barbaric they might be. Gangs, smugglers, and screaming populists have flooded to the town and now call it home, as despair becoming a prominent trait among those who live within its parameters.
Players adopt the role of a freshly recruited sheriff, Lilly Reed, who has been struggling to maintain order and peace in an overly violent area. Her subordinates are of little aid, as they consist of uncouth men who aren't yet used to taking commands from a young woman. The dynamic of the department begins to change as a new case springs up, which involved a mysterious stranger who goes by the name of Warren Nash. After an initial interview, it becomes evident that no one will be able to tell quite yet whether this individual has come to town to bring salvation or perdition.
The gameplay featured utilizes myriad styles, as its predecessor did. The different gameplay mechanics and genres merge into a one-of-a-kind story-driven experience that concludes with various unexpected twists. The genres ranges from adventure, strategy, simulation, management, puzzle, to management.
In the harsh world of Sharpwood, players will soon realize that no one is completely innocent, including the player character. The inhabitants of the city remain ignorant and cruel, with poverty and hunger resulting in an outburst of domestic crime that demonstrates no signs of stopping. The inaction of the authorities has resulted in the townspeople seeking guidance from the "forest spirits" and archaic religious cults that hide within the overall population.
Emerging issues with the food supply have delivered the town into the control of local smugglers, who consists of former military members. Players contain the autonomy to do whatever it takes to ensure situation that emerges around Sharpwood go their way, ranging from planning out deals with criminals, accusing the innocent, and torturing the ones who won't go along with your schemes willingly.
Players will need to keep their friends close, but their enemies much closer. The subordinates from the department may be used as resources, but may also to aid players through the strengths they share that you may lack. Many contain their own fears and prejudices, which players may have to reckon with in order to properly survive the mayhem of Sharpwood.
This is the Police 2 will be available on Steam for Windows, Mac OS X, and Linux machines come August 2.