---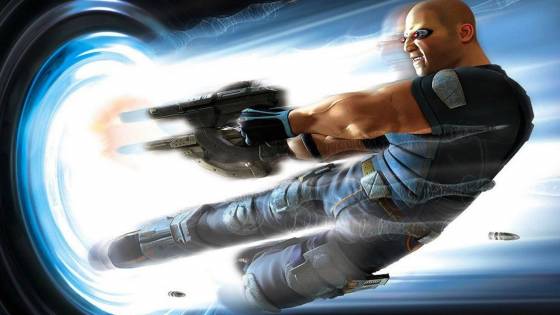 Here's a series name you probably thought you wouldn't hear ever again: TimeSplitters. I'm sure just the mere reading of that name brings back a lot of memories for a lot of people. The TimeSplitters series debuted way back in 2000, right at the start of the new console generation. In fact, it was one of the first launch titles for the PlayStation 2. The first game saw a very positive response from the industry and gamers alike, spawning two more sequels over the span of the next five years: TimeSplitters 2 and TimeSplitters: Future Perfect. The popularity never wavered for even a second, and fans were eagerly expecting a fourth game down the line after Future Perfect's release. Developer Free Radical Design had started developing one but got bought out by Crytek, who went on to own the license. Crytek made numerous statements assuring that the fourth would come out eventually, but it never has. In comes THQ Nordic/Koch Media, ready to fix this situation.
In a new announcement made by Nordic themselves, they've acquired the rights to the TimeSplitters IP after a purchase from its former-holder Crytek. The gist of it is that THQ Nordic seems to be planning on bringing the series back, potentially under the development of Deep Silver, one of the many studios they're partnered with. "We are hugely excited to have acquired TimeSplitters," said Koch Media CEO Klemens Kundratitz in the official announcement. "The original games gave fans a massive content offer and provided a pure and genuinely fun arcade shooter experience. We have many fans of the TimeSplitters series among our own staff who are passionate about creating a product that will thrill today's gaming audience." Those last few words, about creating a product for today's audience, heavily imply that the company intends to put together a new, fourth TimeSplitters game after all this time. It could also mean seeing the original three games in some kind of remastered form, which would be exciting too.
THQ Nordic didn't seem fit to just stop at TimeSplitters, though. According to the announcement, they've also bought the rights to Free Radical Design's other PS2 shooter IP: Second Sight. The plan is thus: "Forthcoming Second Sight products will also be published by Deep Silver". Once again, the wording is pretty key here. Products implies multiple different projects, so in essence, we're going to be seeing a resurgence of quite a few PS2 classics out of THQ Nordic. The company has been quite busy as of late and is currently set to release Darksiders 3 this year after that game's switching of groups a few years back.
And so, we now must simply sit back and wait to see what happens. It will likely be some time before we hear more about what's next for TimeSplitters, but now that it's in the hands of a group that's clearly interested and ready to develop, the series may get the attention (and sequel) it deserved after over a decade of inactivity. The first TimeSplitters is only for PlayStation 2, while the second and third games released on GameCube and Xbox alongside PS2. If you've never heard of TimeSplitters and are interested in playing, now might be the time to hunt them down. All three games are first-person shooters complete with single player story modes, multiplayer modes, a map maker, and more. Stay tuned for any updates!